Nearly six months ago the Government announced it would aim for a Predator Free New Zealand by 2050.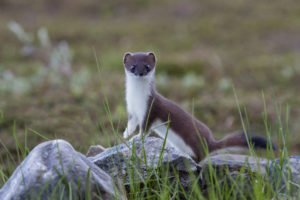 We asked experts about the tools needed to pull off the audacious plan and what the hurdles to success might be.
Please feel free to use these comments in your reporting.
– Professor Neil Gemmell, University of Otago
– Assistant Professor Kevin Esvelt, MIT
– Dr James Russell, University of Auckland
– Dr Andrea Byrom, Director, NZ Biological Heritage National Science Challenge
– Professor Carolyn King, University of Waikato
– Professor Charles Daugherty, Victoria University of Wellington
– Professor Phil Seddon, University of Otago
See end of page for conflict of interest statements.
Q&A with Neil Gemmell
Professor Neil Gemmell
Professor of Reproduction and Genomics, Department of Anatomy, University of Otago
The goals for Predator Free NZ were ambitious but do you think it's possible for the project to meets its targets by 2050 using current methods and technologies?
"The goal is ambitious but achievable in my view. Current technologies (poisons and trapping) would get us a long way. We have already shown this through eradication efforts of rats on islands.
"However, to do something at a larger scale, relatively quickly, cheaply and with minimal impact on other species, will require the development and adoption of new approaches."
One of the goals of the project is to do with technological development. What potential advances could help Predator Free NZ meet its targets?
"There are likely four areas of key technological development:
1. Genetic based approaches that target a species' specific vulnerability, for example, targeted mutations in key developmental and reproductive genes to make a pest species produce offspring that are all male or infertile.
2. New attractants and toxins that are specific to a given species, which will enable us to make poison baits that are attractive to and toxic to a specific animal. It's likely that these developments will be assisted by new genomic data.
3. Establishment of better ways to detect pest species in our environments using, for example, a network of biosensor devices that would send a digital signal each time they encounter a pest species. This would enable a more targeted approach to eradication.
4. Establishment of a citizen science movement in support of the challenge. This would be integral to the eradication effort via deployment of traps, toxins, etc. within their communities and also engage these citizens in the active monitoring of outcomes, such as tracking the reductions in pest numbers and the increases in other flora and fauna."
Continue reading "Predator Free NZ: what will it take to achieve our own 'moonshot' – Expert Q&A"