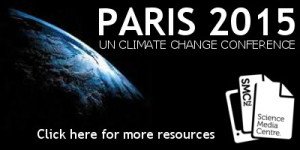 Leaders from countries around the world laid out their planned actions to tackle climate change at the UN Climate Change Conference in Paris that started this week.
RNZ: Leaders urge climate talk breakthrough in Paris
New Zealand Herald: Climate talks: What's happened and what's next
RNZ: Pacific leaders call for climate action
Fossil fuel subsidies
Prime Minster John Key presented United Nations Framework Convention on Climate Change (UNFCCC) Executive Secretary Christiana Figueres with the Friends of Fossil Subsidy Reform Communique at the conference yesterday.
The Communique, which  calls for the removal of inefficient fossil fuel subsidies, has been endorsed by close to 40 countries, including France, Germany, Italy, Mexico, Morocco, the Netherlands, Samoa, the United Kingdom, the US and Uruguay.
Coverage of the announcement and subsequent reaction and analysis:
RNZ: Key pushes to end fossil fuel subsidies
3 News: Key calls for end to fossil fuel subsidies
TVNZ News: Climate change talks: John Key calls for big change over fossil fuel subsidies
NewstalkZB: PM calls for an end to fossil fuel subsidies
NBR: Key leads move against fossil fuel subsidies at Paris climate summit
SunLive: Fuel subsidies action call
NZ City News: NZ leads war on fossil fuel subsidies
NewstalkZB: Govt at odds with opposition over taxpayer oil company support
Otago Daily Times: Fossil award 'damning indictment' on NZ
Element Magazine: NZ wins first 'Fossil' award at Paris talks
Otago Daily Times: Greens accuse PM of hypocrisy
New Zealand Herald: Call to end polluter aid draws fire
Continue reading "Leaders lay out commitments in climate talks – In the news"