The latest edition of the manual defining criteria for mental illness is set to have a major impact on how patients are diagnosed and how their treatment is funded.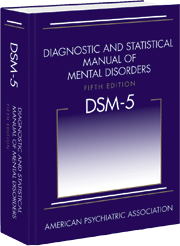 Walk into the office of any psychiatrist or psychologist and one item is guaranteed to be on the book shelf: the Diagnostic and Statistical Manual of Mental Disorders (DSM).
Often called the 'psychiatric bible', the DSM is published by the American Psychiatric Association (APA) and contains descriptions, symptoms, and other criteria for diagnosing mental disorders. These criteria for diagnosis provide a common language among professionals who treat patients with mental disorders.
The Manual's fifth edition, DSM-5, is to be launched at a press briefing at the APA conference in San Francisco this Sunday (NZT).
Some of the proposed changes likely to be included in the new DSM — which hasn't been updated since 2000 — have gathered considerable criticism from both experts and the public. Controversial revisions include:
Re-classifying Asperger Syndrome under the broader  Autism Spectrum Disorder diagnosis.
Removal of certain exclusion criteria separating bereavement grief and depression.
A broader definition of attention deficit hyperactivity disorder (ADHD)
A reshuffle of diagnostic criteria for post traumatic stress disorder (PTSD).
An open letter criticising some of the DSM-5 revisions has so far gathered gathered more that  14,000 signatures.
Ahead of Sunday's launch of the DSM-5, the SMC contacted New Zealand experts for comment on the new edition and its implications for NZ. Feel free to use these quotes in your reporting. If you would like to contact a New Zealand expert, please contact the SMC (04 499 5476; smc@sciencemediacentre.co.nz).
Peter Coleman, President of the New Zealand Psychological Society, and Kerry Gibson, President Elect, comment:
"We, like many psychologists around the world, are concerned that the changes in the DSM are not supported by clear research evidence.  As is generally recognised, DSM has always been a consensus document and in part reflects changes in social norms and beliefs (e.g. homosexuality was once listed as a mental disorder) as much as empirical research.
Continue reading "The DSM-5 and redefining mental illnesses – experts respond"