A massive bush fire is burning near Nelson, which has experienced warm and extremely dry conditions this summer.
Hundreds of hectares have burned since the fire started on Tuesday. Late last month authorities had warned that the region's fire risk was the worst in 18 years.
The SMC has asked experts to comment on conditions that may have influenced the fire.
Peter Williams, 
Research Associate, Manaaki Whenua – Landcare Research, comments:
"NIWA reports that Nelson averages 9-10 days per year of very high or extreme fire danger, with up to 17 in a particularly bad year. Already this year Nelson has had 15 such days. The soils and vegetation are extremely dry right now. The vegetation of the Moutere Hills and the eastern hills behind Richmond and Nelson is particularly flammable, being a mixture of pine forests, cutover forests with slash, scrub including much gorse, and little open pasture. There is almost no relatively fire-resistant vegetation in this landscape.
"This is no more so than on the hills east and north of Nelson city where a fire has just broken (afternoon of 8 Feb) out and helicopters are on the scene. This is the first time in nearly 40 years that I have seen fire-fighting choppers working both sides of Tasman Bay. From my kitchen window, I see houses nestled closely amongst eucalypts, pines and gorse.
"This is not the first time there have been severe fires in this area. But when one thinks of the fires that have devastated parts of Australia, the Americas and Europe in the last few years one wonders about the role of flammable (and often exotic) trees in dry areas. We ask if this could be an opportunity to include leafier (and less flammable) native spaces in buffer zones for the parts of New Zealand predicted to dry even further?"
Grant Pearce, fire scientist, Scion Rural Fire Research Group, comments:
"Media coverage of this week's major forest fire at Pigeon Valley, near Nelson, showed what a dramatic and devastating event wildfires can be.
"The Nelson region has a history of significant forest fires, with major ones occurring in February 1981 at Hira, on the outskirts of Nelson city (which burned 1972 hectares); in October 1997 at Harakeke, in the Moutere Hills (535 ha); in December 2004, in Irvines Forest (200 ha); and in November 2009, near Tadmor (600 ha). The 1981 Hira fire occurred at a similar time of year (5 February), and is closest in size to the current event. Many smaller wildfires have also occurred across the region, both in plantations and other vegetation types.
"The region's fire climate severity isn't as high as neighbouring Marlborough but, based on weather data for Nelson Aero, the region still experiences 9-10 days per year on average of very high and extreme forest fire danger. However, in a bad fire season as many as 16-17 days of very high and extreme fire danger may occur. This year alone, Nelson has seen seven days of very high, and eight days of extreme forest fire danger, since the beginning of January, with the recent heatwave being a major contributor to this.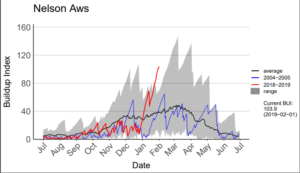 Graph: Trend in the Buildup Index component of the fire danger rating system for the Nelson automatic weather station (AWS). The current fire season trend is shown by the red line, the trend for 2004/05 (a similar Neutral ENSO year to current conditions) by the blue line, the long-term average for this site by the black line, and the range of previous seasons' values by the shaded grey area.
"Fire managers have reported that current fire danger levels are the highest they've seen in almost 20 years and NIWA's soil moisture maps are showing significant soil moisture deficits across the region. The current level of extreme dryness can be seen in a comparison of fire danger code levels with previous years, as for example shown by the Buildup Index component, which describes the overall fuel dryness and amount of fuel available for consumption (with a value of 60 being very high, and 80 extreme).
"The very hot, dry and windy weather over the past month has had a major effect on the drying of forest fuels in particular, including slash and prunings, understorey scrub vegetation, pine needle litter on the ground and organic material in the soil, which all contribute to the amount of vegetation fuel available to burn. These dry, elevated fuel loads contribute to easy fire ignition and spread, and to high fire intensities including crown fires that are very difficult, if not impossible to control, especially in steeper terrain often favoured for forestry plantings. Surrounding grass fuels are also dry, but the lower fuel loads mean that fires are usually easier to control once they spread out into these grass areas.
"Modelling of potential future changes in fire danger indicates that the number of severe fire weather days is likely to increase in many parts of the country. This includes the Nelson region, where the number of days of very high and extreme forest fire danger could increase to more like 12-13 days per year on average, and maybe 20-25 days in the worst years, with climate change.
"So the Nelson region, as well as other parts of the country, are likely to see more of these types of wildfire events in future."
More information from Scion: 
* Trends in fire danger levels for stations in different regions
* Predictions of potential changes in fire danger for other parts of the country
* Smoke forecast for Nelson forest fire
Conflict of interest statement: Scion's Rural Fire Research programme is funded by the Ministry of Business, Innovation and Employment (MBIE), and receives co-funding from Fire and Emergency New Zealand, NZ Forest Owners Association/Forest Growers Levy Trust, Department of Conservation and NZ Defence Force.
Ben Noll, meteorologist, NIWA, comments:
"The start to summer (December 2018-January 2019) was the third warmest on record for New Zealand. The warm pattern has been a result of very warm sea surface temperatures both in New Zealand coastal waters and in the Tasman Sea as well as a lack of cooler southerly winds.
"Richmond (Tasman District) had two consecutive days with high temperatures of 33.8˚C on 27-28 Jan 2019, the warmest of the summer to-date.
"January came with abundant sunshine and it was the sunniest month on record for any location in the South Island, with Richmond (Tasman District) recording 355 hours.
"With the warm, sunny pattern, Nelson (1 December-5 February), has recorded just 84 mm of rain. The summer normal (1 December-28 February) is 224 mm.
"As of 6 February, Richmond (Tasman District) was on a 22-day dry spell. A dry spell is defined by consecutive days with less than 1.0 mm of rain.
"The New Zealand Drought Index is reporting 'extremely dry' conditions in the Tasman-Nelson area, indicative of long-term dryness that began in November 2018. According to the Index, drought conditions were also reached last summer (2017-18).
"According to the Intergovernmental Panel on Climate Change (IPCC): Heatwaves and fires are virtually certain to increase in intensity and frequency (high confidence). Droughts are very likely to become more frequent and intense (high confidence)."
For more fire weather details, see the NIWA-FENZ Fire Weather website.
Scion have have also released this smoke forecast.