2018 has tied for the second hottest year on record, according to NIWA's annual climate summary released today.
Boosted by last summer's marine heatwave in the Tasman Sea, 2018 kicked off with January being the hottest month on record, and another five months were above average temperature.
Based on NIWA's seven-station series, which began in 1909, 2016 remains the hottest year on record with 1998 and 2018 tied in second place. Last year also marked a new record for the warmest minimum temperatures, previously held by 2016.
The SMC asked experts to comment on the climate summary. Please feel free to use these comments in your reporting.
Professor James Renwick, School of Geography, Environment and Earth Sciences, Victoria University of Wellington, comments:
"The year 2018 in New Zealand has come in as the second-equal warmest year on record (since 1909), tied with 1998 and just 0.04°C cooler than the record-holder 2016. Record high temperatures occurred much more often than record low temperatures, as has been seen most years this century with heat records being broken on average about 10 times more often than cold records. The six warmest years on record for New Zealand have all occurred in the last 20 years, and have been more than 1°C warmer than temperatures experienced a century ago. This is consistent with the warming trend seen here and globally, of about 1 degree of warming over the past 100 years.
"Last year's warm conditions were helped along by the marine heat wave that occurred over summer 2017/18, giving us the warmest January (and the warmest month) ever recorded in New Zealand. Plus, there was a tendency for wind from the north or northeast, bringing warm air from the direction of the tropics more often than normal.
"Warm air from the north tends to be moist air, and many parts of eastern and northern New Zealand were wet in 2018. Ex-tropical cyclones Fehi and Gita that affected the country in February gave some regions a taste of how a warming climate affects extreme rainfall. Warmer air holds more moisture, increasing the chances of very heavy rainfall. Ex-tropical cyclone Gita dumped nearly two months' rain on Motueka in a little over half a day, and four months' rain in about one day in Kaikoura, bringing serious flooding. These kinds of deluges become easier and easier to achieve as the climate warms. Fehi and Gita also delivered major storm surges and coastal inundation around Nelson and parts of the West Coast. As sea levels continue to rise, such events again become easier to achieve, making many coastal communities increasingly vulnerable to coastal flooding and erosion.
"Temperatures experienced in 2018 would be classed as cold in another 50 years' time, if climate change continues unabated through this century. Unless New Zealand and the global community takes urgent action on reducing greenhouse gas emissions, we will see ever-increasing exposure to the sorts of extremes seen in 2018, with major implications for coastal infrastructure, agricultural production, economic damage, and public wellbeing."
Dr Jim Salinger, University Associate, University of Tasmania, Australia; Visiting Professor, University of Florence, Italy, comments:
"NIWA's climate summary confirms that we are experiencing the warmest group of years in our recorded climate history in the 2010s. This together with a similar situation with the most above average group of years for sea surface temperatures around New Zealand shows that global heating is having its influence in this very oceanic region. That's why it sizzled at night with average minimum temperatures the warmest on record. And our reliable surface temperature records go back over 150 years to 1867.
"For example, last summer's heatwave was unprecedented and covered an area the size of the Indian subcontinent – 4 million square kilometres. The largest ice melt from our Southern Alps glaciers occurred in the last 57 years when 3.8 cubic kilometres, or 9 per cent of permanent snow, went down our rivers. This brought the total down to 37.5 cubic kilometres, compared with 60 cubic kilometres in 1962, a 38 per cent reduction.
"Very early Sauvignon Blanc wine-grape maturation in Marlborough, and major species disruption occurred in our marine ecosystems. Snapper were caught in Fiordland.
"This group of very warm years mimics what is happening with global heating where surface temperatures for planet Earth for the last four years (2015, 2016, 2017 and 2018) have been also the warmest on record. And there is more heat to come as NIWA's seasonal climate outlook is foreshadowing the next three months being above average.
"And more heating is predicted for 2019, by the UK Met Office [see below]. Their 2019 forecast indicates that the year 2019 will be close to a record due to global heating and the added effect of the El Niño in the tropical Pacific.
"The Met Office forecasts the global average temperature for 2019 to be between 0.98°C and 1.22°C, with a central estimate of 1.10°C, above the pre-industrial average period from 1850–1900. Since 1850, 2016 is the warmest year on record with a central estimate of 1.15°C above the same baseline."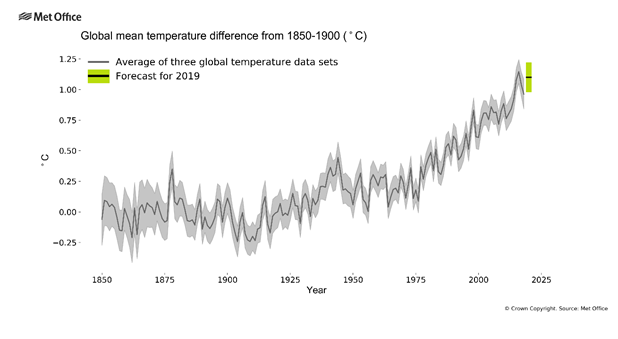 Lisa Murray, Senior Communications Meteorologist, MetService, comments:
"2018 was a busy year for MetService meteorologists who issued numerous Severe Weather Warnings to warn New Zealand about extreme weather events.
"A record hot start in January (since records began in 1909) was followed by a dramatic change in February. Two damaging ex-tropical cyclones, Fehi and Gita, caused widespread impacts. Cyclone Fehi arrived on 1 February with Buller and Dunedin declaring a State of Emergency, then Gita arrived on 20-21 February with seven provinces declaring a State of Emergency.
"It was the wettest February on record for Nelson and Blenheim (records at both locations started in 1941). The rainfall was nearly four times the usual February amount.
"The wind storm in Auckland on 10 April cut power to a record number of households, the largest power cut in New Zealand's history.
"Thunderstorm activity was widespread across the country for the final month of the year, recording 119,698 strikes in December over New Zealand and coastal waters. December 14th saw 33,218 lightning strikes in just 24 hours!
"With New Zealand experiencing so many significant weather events in the last year, it is a good reminder of the importance of keeping informed about the weather when making decisions. You can keep up to date with the latest weather forecasts and check for any official Severe Weather information from MetService and on the MetService app."