From December 2018, New Zealand journalists with a Scimex account will have the option to receive daily updates of research-related news.
If you're a journalist signed up to our mailing lists, you'll currently be receiving our curated SMC Picks emails on Tuesdays and Fridays, as well as our Expert Reaction and Expert Q&A comments. From December, there'll be another option available: Scimex Daily.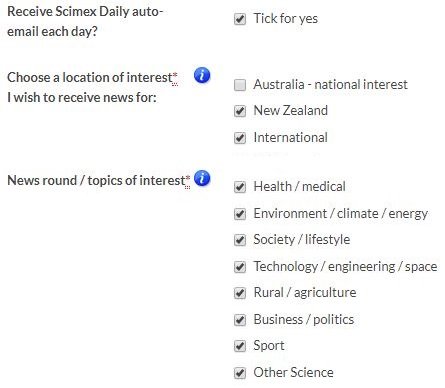 As the name suggests, Scimex Daily will send you updates every morning about any research added to Scimex in the past 24 hours. Scimex Daily can serve as an addition to or replacement for our SMC Picks service, where twice a week we highlight the best of the research available on Scimex.
If you're happy with the current volume of emails you receive from us, you don't need to change any settings. But if you want to try Scimex Daily you can opt-in by updating your MyScimex profile (when logged into Scimex, click on the top right under your name). Alternatively, you can let us know and we'll add you to the list.
Like our Expert Reaction emails, the content you receive via Scimex Daily is filtered by two selection criteria you chose when you registered your Scimex account: location of interest and topics of interest. If a story fits one of these criteria, it will appear in your curated email.
If you want to see as much science as possible, tick all the boxes. But if you want a more curated email – say New Zealand health stories, or international tech stories – you can narrow your focus. This may mean you don't get an email every day, but the stories you do see will be more closely aligned to your interests.
You can pick and choose which topics and locations of interest you get by changing your email preferences in MyScimex. Unsure what to pick? Here are our recommended settings, you can always change these later: for new sign-ups, we recommend unchecking Scimex Daily and opting in once you're familiar with what content you'd like to receive.
Got any questions? Email us on smc@sciencemediacentre.co.nz.