The 300-year anniversary of the last time the Alpine Fault ruptured has been marked with a special issue of the New Zealand Journal of Geology and Geophysics.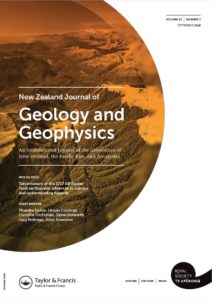 Slated to be published last year, 300 years after the 1717 earthquake, the special issue was delayed by the 2016 Kaikōura earthquake, with research following the quake included in the special issue.
GNS Science's Phaedra Upton, the chief guest editor of the special issue, said the Alpine Fault had a well-documented history of large earthquakes at fairly regular intervals, which meant there would be another one in the future. "Whatever we can learn about this fault and how it moves will help us understand and prepare for the next great earthquake."
The special issue included a paper on AF8, a project aiming to improve the South Island's capability to deal with a magnitude 8 earthquake, which has highlighted the need to be able to shelter and care for displaced people, including the potential for tens of thousands of tourists in the aftermath of a major earthquake.
Another paper, led by Dr Tom Robinson at Durham University, suggests landslides and surface fault ruptures could cause blockages at more than 120 South Island locations after an Alpine Fault rupture. It could take more than six months to restore crucial connections and would mean large numbers of tourists would require evacuation.
The special journal issue was covered by local media, including:
Stuff.co.nz: Scientists mark 300 years since last great Alpine Fault quake – preparing for the 'inevitable'
Otago Daily Times: Alpine shake would hit tourism
Newshub: Alpine Fault overdue for magnitude 8+ quake – scientists
NZ Herald: Big Alpine Fault quake would cut off 10,000 residents