Even if all nations manage to stick to their Paris Agreement targets, we're still committed to sea level rise.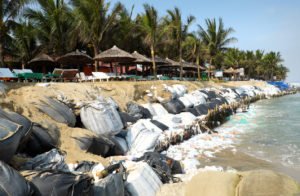 A study published today in Nature Communications projects 0.7 to 1.2 metres of global sea level rise by 2300 assuming the Paris targets are met. But for every five-year delay in mitigation after 2020, the researchers estimate an extra 20 centimetres of sea level rise.
The SMC asked experts to comment on the study, please feel free to use these comments in your reporting. 
Professor Dave Frame, director, New Zealand Climate Change Research Institute, Victoria University of Wellington, comments:
"This is a great example of how delays to mitigation can make the costs of climate change add up. It also shows, again, the importance of the thermal expansion and mountain glaciers for sea-level rise this century.
"I don't think arguments about sea-level rise are anything like a game-changer, because if people aren't prepared to mitigate on behalf of their children, whom they love, it's hard to see how information about people 300 years away will do more to alter their behaviour."
Professor Tim Naish, Director, Antarctic Research Centre, Victoria University of Wellington, comments:
"The paper by Matthias Mengel and colleagues in Nature Communications this week shows that even with stringent greenhouse gas emissions mitigation as agreed to in the Paris Agreement, the planet will still be committed to ongoing rising sea-levels to the year 2300. Their result is not surprising and is in line with recent studies by Golledge and colleagues (2015, Nature) and DeConto and Pollard (2016, Nature), which show that the thermal inertia in the ocean and Antarctic ice sheet results in multi-centennial sea-level rise even if net zero emissions are achieved by the end of the century.
"Of significance, however, is that they show that the mitigation pathway to zero emissions matters and that for every five years' delay in reaching peak carbon, an additional 20cm of sea-level rise occurs. Therefore, global sea-level could be between 0.7 to 1.2m above present by 2300. This paper together with a developing understanding that a stability threshold in Antarctica's ice sheets might be crossed at 1.5-2C global warming, reinforces the urgency for nations to dramatically increase their nationally determined contribution (pledge) at the first, five-yearly stocktake in 2020.
"Emissions must peak as soon as possible, followed by aggressive reduction to zero emissions well before the end of the century, if we are to significantly reduce the risk extreme sea-level rise associated with rapid collapse of the West Antarctic Ice Sheet.
"This research is timely, especially this week as Victoria University of Wellington hosts the Pacific Climate Change Conference. Pacific Island nations were strong advocates that the Paris Agreement ensure parties make a genuine attempt to restrict global warming to nearer 1.5C above pre-industrial levels, as a number of studies were already showing that sea-level rise in a 2C world could flood some of most vulnerable lowest lying island nations such as Kiribati and Tuvalu."