The country's capital will have warmer autumns and rainier winters by 2090, according to a new Niwa climate report.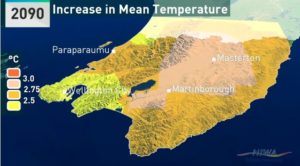 The report, prepared for the Greater Wellington Regional Council, projected an increase in the annual number of 'hot days' (over 25°C) in Wellington, from six per year now, to 26 per year by 2090. In the Wairarapa, the increase would be from 24 days a year now, to 94 in just over 70 years.
Other findings included that annual temperatures would increase by 1°C by 2040, and up to 3°C by 2090; frosts in the Tararua Ranges' higher elevations would likely disappear; spring rainfall would reduce by up to 15 per cent in eastern areas by 2090, but there would be up to 15 per cent more winter rainfall along the west coast in the same period.
Niwa chief scientist for climate, atmosphere and hazards Sam Dean said the 'climate-wise' New Zealand was already "dramatically different from those that the tangata whenua and the early European settlers experienced when they first arrived here".
Based on calculations from Niwa's super computer, the simulations took two years to run and involved "world-leading" techniques to provide high-resolution information about the Wellington region, Dean said.
The report was covered by local media, including:
Stuff.co.nz: Wellington will get hotter and wetter, but the Wairarapa will get more droughts 
NZ Herald: Climate change to make Wellington as hot as Sydney: Niwa report
Radio NZ: Wellington region days over 25° to nearly quadruple
Niwa also prepared a video summary of the report: