Auckland's volcanic past has been punctuated by periods of heightened activity and thousands of years of silence, according to two new research papers.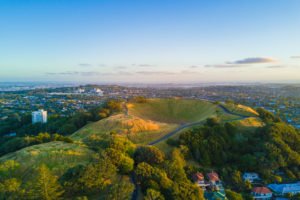 Researchers from the DEVORA (Determining Volcanic Risk in Auckland) research programme used argon-argon age dating to gather more precise timings of eruptions in the Auckland Volcanic Field. The oldest eruption (Pupuke) dates back to approximately 200,000 years ago, with youngster Rangitoto erupting a mere 500 years ago.
The two studies have been published in the Bulletin of Volcanology and the Journal of Volcanology and Geothermal Research.
At least half of the eruptions occurred in the last 60,000 years, which GNS Science senior scientist Dr Graham Leonard said was "geologically speaking, a short period of time".
"On the other hand, the volcanic field has also gone quiet for up to 10,000 years in the last 60,000 years, which is quite a long gap. This new research is exciting because it has allowed us to further define when eruptions have occurred which has helped us flesh out an eruption timeline."
Dr Leonard told Radio NZ that while scientists had been chipping away at the dates for the Auckland eruptions, but before these new studies only knew the ages of about 12 of the 53 volcanoes in the Auckland Volcanic Field.
"It's been active for at least 200,000 years, with at least half of them, probably more, in the last 60,000 years, that means the rate increased about 60,000 years ago. Which means it's probably a relatively young volcanic field and it's definitely still active."
The research was covered by local media, including:
NZ Herald: Scientists reveal Auckland's explosive history
Stuff.co.nz: Rate of Auckland volcanic eruptions increasing, scientists say
Radio NZ: Decoding Auckland's Volcanic Past
Newshub: Auckland's volcanic eruptions surprisingly recent, study reveals
NZ Newswire: Auckland's volcanic past 'temperamental'