As temperatures rise, plants head up mountainsides, with weeds spreading to higher altitudes twice as fast as their native counterparts, a new study has found.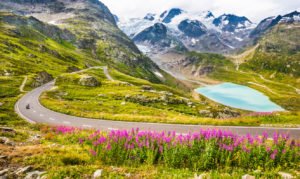 Published today in Nature Climate Change, the study examined more than 130,000 records of 1334 plant species collected over 20 years in a single range of the European Alps.  The international team of researchers found that weeds quickly outpaced other plants, with roads helping drive expansion into mountains.
New Zealand co-author Professor Philip Hulme, from Lincoln University's Bio-Protection Research Centre, said while the study was conducted in Italy, it should ring alarm bells for New Zealand.
"We have a lot of these alien plants in our lowlands," he told Radio NZ. "Far more than in Italy, so we've got a great pool of potential species that can potentially move up mountains and so I think the risks are worth being quite concerned about."
With tourists increasingly flocking to New Zealand's alpine environments, there could be increased pressure for infrastructure, Prof Hulme told stuff.co.nz.
"Clearly there's economic benefits to having ski stations up in alpine areas, but with different types of tourism . . . mountain bikers are increasingly moving to high alpine areas, four-wheel-drives, all of these things mean more likelihood of disturbing the landscape that's there but opening it up to invasion by weeds."
AUT tourism professor Simon Milne told Radio NZ that the spread of weeds was another hidden cost potentially associated with tourism development, and restricting movement to some areas could be a solution.
"Part of this will be perhaps to identify those environments where we may want to reduce or restrict visitor flows in a way that we don't currently do at the moment."
The study was covered by local media, including:
Radio NZ: Scientists warn of 'alien plants' risk in NZ
Stuff.co.nz: Humans, climate change risk killing New Zealand's unique alpine plants
NZ Herald: Climate change, tourism threaten alpine plants