Health officials are appealing for parents to immunise their children in the midst of a mumps outbreak in Auckland.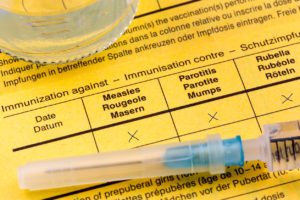 More than 130 cases of the viral disease have been notified in Auckland this year to date, compared to 35 for the same period last year. The Auckland Regional Public Health Service (APRHS) has said 80 per cent of the cases were not fully vaccinated. "It is disappointing because mumps can be a serious disease which is entirely preventable," said APRHS clinical director Dr Julia Peters.
Speaking to the AM Show, University of Auckland's Dr Helen Petousis-Harris said any outbreak could be serious because there were serious consequences. "And even though they're not that common, it's a numbers game as to who's going to take the hit".
"We've got this historical low coverage where we wallowed around at the bottom of the OECD for many many years and the age group, sort of about the ten to 19, into their 20s, are I guess the casualties of that really low coverage," she said.
The outbreak comes at a time when the film Vaxxed continues to be screened around New Zealand. The film's director, Andrew Wakefield, was struck off the medical register following a since-retracted paper in The Lancet purporting a link between the measles-mumps-rubella (MMR) vaccine and autism.
Writing on sciblogs.co.nz, microbiologist Dr Siouxsie Wiles described vaccination as a "forcefield that can stop many awful bacteria and viruses from infecting those most at risk".
New Zealand children are routinely given the MMR vaccine at 15 months and four years, but during an outbreak children are eligible for their first vaccination at 12 months and can have the second dose four weeks later. The vaccinations are free of charge.
The outbreak has been covered by local media, including:
RadioLive: Should you be worried about the mumps outbreak?
Stuff.co.nz: Parents urged to vaccinate children as mumps cases rise
Radio NZ: Warning over bump in Auckland mumps cases
TVNZ: Auckland mumps cases fuelled by fewer vaccinations – health authorities
Newshub: Mumps outbreak hits Auckland
NZ Herald: Low vaccination rates boosting unprecedented mumps outbreak