There's a new media movement run out of Australia that has been gathering momentum in recent years and which now has a foothold in New Zealand.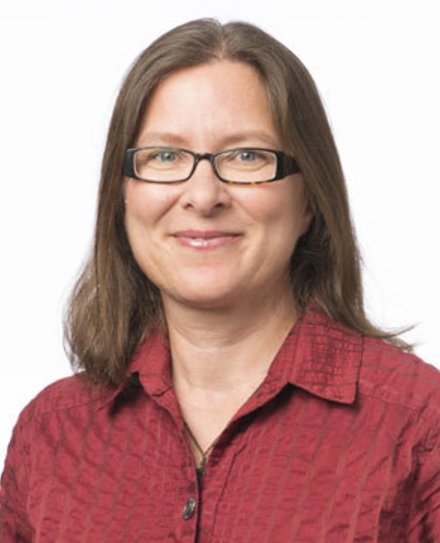 The Conversation is a series of websites featuring commentary from academics on big issues facing society. It is headquartered in Melbourne, but now also has websites in Australia, the UK,  the USA, France, and South Africa. Editions are in development in Indonesian and Canada and there is a global website that aggregates content from across the national websites.
Find out more about The Conversation's debut in New Zealand.
It also now has a New Zealand editor, with former RNZ science journalist, host and producer Veronika Meduna extending The Conversation's reach into the New Zealand research space.
The Science Media Centre and Royal Society Te Apārangi are supporting the launch of The Conversation in New Zealand. We are working closely with Veronika who will be based alongside us in the Society's offices for the next 12 month pilot period, giving us an opportunity to collaborate on developing resources and content for New Zealand and international media.
Read some pieces on The Conversation Veronika Meduna has edited so far.
Open access
We've always loved The Conversation's model, which shares our own philosophy of offering media outlets open and equal access to content and expert commentary. The venture is largely underwritten by universities – there's no advertising or reader subscriptions. The content published on The Conversation is made available under a Creative Commons licence, so anyone can republish it.
The New Zealand media has been a big consumer of that content – with pieces from The Conversation regularly appearing on news websites and in newspapers here. The addition of a New Zealand editor will only increase the relevance and topicality of the content.
The beauty of The Conversation is the editorial support it lends to academics writing opinion pieces for that platform. A real-time editing system sees an academic paired with an editor to develop expert commentary into a highly readable opinion piece, that the academic then signs off on.

Editorial support
Easy syndication then allows an academic to see that piece run in multiple publications all over the world. A sophisticated analytics dashboard uses tracking code to detect where the piece has run, allowing the academic and university communications teams to accurately gauge the reach and impact of publishing the piece.
The founding New Zealand partners – Victoria University of Wellington, University of Waikato, Massey University and Lincoln University will enjoy that editorial and technical support. Hopefully other research-driven institutions will also come onboard to allow The Conversation to expand its presence in New Zealand.
Impact and reach
Even before its arrival here, we have seen New Zealand researchers make good use of The Conversation, which also considers submissions from academics who are not affiliated with member institutions.
Take, for instance, former University of Canterbury academic and geologist Dr Mark Quigley, who was an active science communicator in the wake of the Canterbury earthquakes. In 2012, Quigley wrote an opinion piece for The Press about a legal case in Italy that saw natural hazards experts there put on trial for manslaughter over the advice they gave to the town of L'Aquila, which in 2009 was hit by an earthquake that killed 308 people.
Quigley was naturally concerned about the precedent of scientists being put on trial and the implications that could have for their willingness to give advice about natural hazards here in New Zealand. The Press prominently ran his opinion piece, which he also submitted to The Conversation. After some editorial tweaking, that piece was picked up from The Conversation website and run as a full page editorial in the New Zealand Herald the following day, as well as in numerous overseas outlets. That is serious reach and impact for a researcher.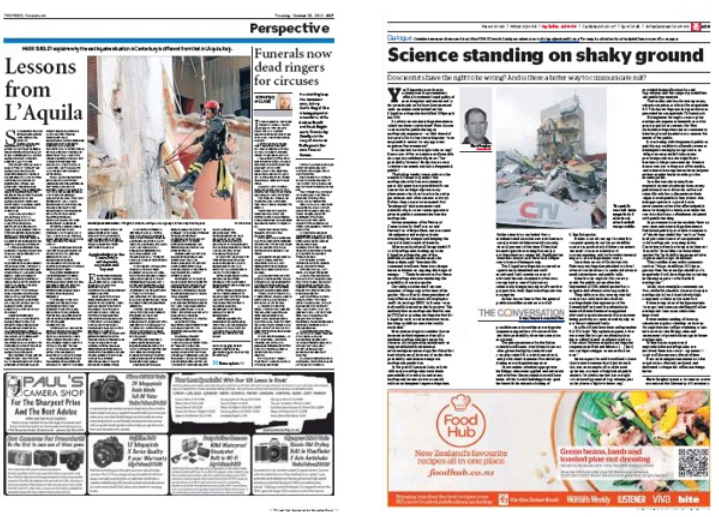 The opportunity
That is the power of The Conversation – to amplify the work of academics seeming to communicate their research. As such, it is a big opportunity to engage the public with science and research and to increase international exposure to New Zealand research.
For media outlets, The Conversation is a valuable source of free, quality content – a precious resource as newsrooms grapple with tight budgets and staffing levels. We think this outlet of content complements the Expert Reaction and Expert Q&A alerts we publish for journalists, which are designed to inform science-related news coverage.
Along with the recently launched Science Journalism Fund, the Science Media Exchange, our Science Media SAVVY training workshops for experts and our Spotting Bad Science training for journalists, researchers and the media are better placed than ever to inform the public with evidence-based conversations about the big issues facing society.
Peter Griffin, Director, Science Media Centre