New Zealand isn't insulated from the global problem of antimicrobial resistance, concludes the latest expert advice paper from the Royal Society Te Apārangi.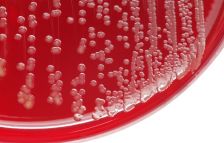 Released today, Antimicrobial Resistance – Implications for New Zealanders compiled evidence on what impacts antimicrobial resistance would have in New Zealand. With many microbes developing resistance to medicines, including bacteria, viruses, fungi and parasites, New Zealand's isolation won't protect us, the report concluded, as every person travelling overseas was another opportunity to bring resistant organisms back into the country.
Microbiologist Dr Siouxsie Wiles told Newstalk ZB that some organisms were developing resistance to every drug we already have, "now we need to start getting on with developing new medicines".
"It's going to get an awful lot worse before it gets any better," Dr Wiles told Newshub's AM Show. "Some of it is our use and abuse of antibiotics by humans and animals…wherever antibiotics are present they sort of allow these resistant organisms to flourish. So wherever we use them, wherever we make them all around the world this is happening."
"What it's going to take is a massive, concerted global effort, so we not only have to try and deal with the things we have here, we're going to have to develop new medicines, we need new diagnostics, we need massive resourcing of this around the world and the worry is that's not being done now."
The report is available on the Royal Society Te Apārangi's website.
The report has been covered by local media, including:
Newstalk ZB: New Zealanders' use of antibiotics doing more harm than good
TVNZ: Kiwi scientists concerned over increasing rates of antibiotic resistance
Newshub: What if antibiotics stopped working entirely?
Radio NZ: Antibiotic-resistant superbugs 'only a matter of time'
NZ Newswire: Antimicrobial resistance warning for NZ