New insights from November's magnitude 7.8 Kaikōura earthquake have revealed the shake was the most violent ever recorded in New Zealand.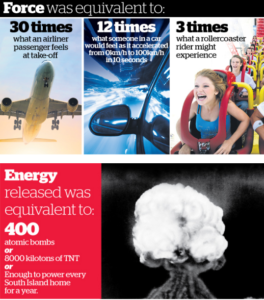 Research from GNS Science, published in Seismological Research Letters, showed that most of the ground motions recorded in the upper South Island were strong, but comparable to previous earthquakes.
However, the small North Canterbury town of Waiau recorded a vertical acceleration about 3g – three times the acceleration due to gravity.
The previous high of 2.2.g was recorded in the magnitude 6.2 Christchurch earthquake in February 2011.
GNS Science's Dr Anna Kaiser said the measuring instrument in Waiau happened to be directly over the Humps Fault rupture, which was one of the first of more than 20 faults to rupture during the earthquake.
The reading was so unusual and exceptionally high it caused initial scepticism – so the instrument was checked by the maker and deemed to have been working properly at the time of the shake.
The study also noted that overall more energy was released north of Kaikōura than further south.
Media coverage of the findings included:
NZ Herald: Kaikoura earthquake shake greater than Christchurch
Stuff.co.nz: Kaikoura quake records strongest ground shaking in NZ history