Using information from the 2013 Census, researchers say that smoking is declining at an ever-increasing rate.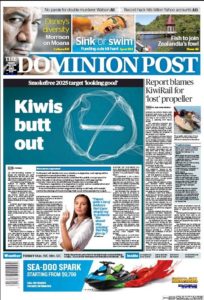 A study, published today in the New Zealand Medical Journal, compared smoking prevalence in 2013 with the previous census in 2006. In 2013, around on in seven New Zealand adults (15 years and older) reported they were regular smokers – a 5.6 per cent decrease in prevalence from the previous census.
The researchers found this decline occurred across demographic groups, including Māori and young adults, though Māori continue to have the highest age-standardised smoking prevalence with the highest rates among young Māori women.
University of Otago's Professor Richard Edwards – a co-author on the paper – told The Dominion Post that he feels the Government's goal of being smokefree by 2025 is within reach. "But unless there's a change of tack, particularly in Māori, then it's not going to happen."
"Whatever way we look at it, we need to do more to help Māori stop," he said.
Smokefree 2025 aims to reduce smoking to less than 5 per cent of the population.
Read more about the research on scimex.org.
The findings were covered by local media, including:
Newstalk ZB: Kiwis stubbing out smoking at increasing rate
Stuff.co.nz: Smoking rates falling: Will we reach the Smokefree 2025 target?
Healthy Food Guide: Smoking drops in NZ adults – data