When the Rena grounded off the coast of Tauranga in October 2011, little blue penguins were the most seriously affected native species from the up to 2,500 barrels of spilt oil.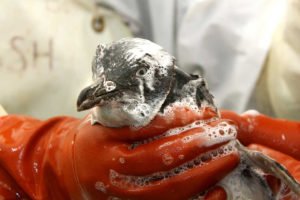 In the aftermath of the grounding, 383 oiled little blue penguins were admitted to the oiled wildlife facility for care – of these, 365 were released back into the wild. But the work for Massey University academics didn't stop there: Wildbase oil response senior lecturer Dr Louise Chilvers led a project that monitored how a subset of rehabilitated penguins recovered.
Measuring stress hormones, Dr Chilvers and her colleagues found the rehabilitated birds recovered with little evidence of habituation to humans. "Ultimately, it supports the value of oiled wildlife response and shows that wildlife can be rehabilitated and returned to the wild with the same tolerance to humans and other natural stressors as non-rehabilitated birds," she said.
Read more about the research on scimex.org.
Coverage of the findings included:
Stuff.co.nz: Penguins caught up in Rena are doing just fine, Massey research says
NZ Herald: Rena disaster: Birds return to normal