TVNZ's Sunday programme turned the floodlights on obesity this weekend, with a 15-minute segment on obesity and type 2 diabetes.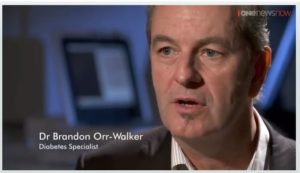 Auckland-based endocrinologist Dr Brandon Orr-Walker told Sunday that the problem would only continue to escalate.
"If it's looking bad now, it's going to look a whole lot worse soon. We're going to have double the problem to deal with, double the cost of servicing and supporting people with diabetes, but we won't have double the funding."
University of Auckland research fellow Dr Marta Silvestre is part of a research team studying people with pre-diabetes. Of 250 people in the study, so far only 12 have developed diabetes.
"It's having regular counselling from people who are giving consistent support to them and consistent information on healthy lifestyles or lifestyle changes."