The wreck of the Rena container ship, its equipment and contents will remain on the Astrolabe Reef where it was grounded in 2011, following the decision of an independent panel commissioned by the Bay of Plenty Regional Council, released last week.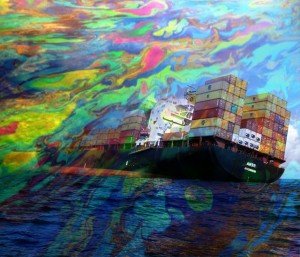 In May 2014, the owners of the wreck made an application to the Council under the Resource Management Act for consent to  "dump" the remains of the ship and allow for the "discharge" any harmful substances from the remains of the ship that may occur over time as a result of the degradation of the vessel.
In the recently published decisionm the Council's  panel granted the requested consents, subject to a number of added conditions. These requirements include: establishing a technical advisory group, instituting a number of monitoring plans and establishing a Kaitiakitanga Reference Group to advise on cultural issues relevant to monitoring of the wreck.
The full report from the commission is available here. You can read previous coverage and commentary on the Rena grounding, collated on the Science Media Centre website, here.
Example of resulting New Coverage in New Zealand include:
Bay of Plenty Times: Mixed response to Rena wreck decision
New Zealand Herald: MV Rena owners will cover ongoing costs
MSN NZ News: Rena wreck to remain on reef
Maori Television: Iwi split over Rena decision
Bay of Plenty Times: Rena: Iwi to appeal
The National Business Review: Rena allowed to stay on reef, harmful substances to be 'discharged over time'
RADIOLive: POLL: Should the Rena wreckage stay or go?
Stuff.co.nz: Commissioners report: Rena application granted but conditions must be met
TVNZ: Rena wreckage to stay on Bay of Plenty reef
RNZ: Decision against Rena wreck removal
Bay of Plenty Times: Rena decision released – wreck to stay