The weekly science page that runs in the Dominion Post and Press newspapers is now being syndicated across four additional Fairfax newspapers, increasing the page's potential reach to nearly 560,000 readers each week.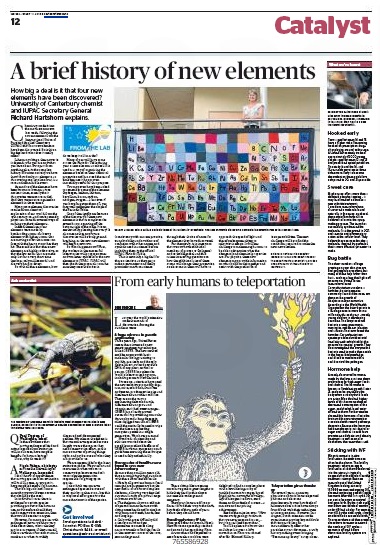 The Dominion Post has for several years now run a science page each week, anchored by veteran science columnist Bob Brockie and running local and international science features, an Ask a Scientist column and a round-up of the latest research news from peer reviewed journals.
A couple of years ago, a science page was also started in the Press under the Catalyst banner and over time much of the content was coordinated with that of the Dominion Post.
Now it seems that the mix of science-related news on the page is popular enough to appeal to a wider audience with the Waikato Times, the Taranaki Daily News, the Manawatu Standard and the Southland Times also now running the Catalyst page each Monday.
The content on the Catalyst page is the same in every paper, reflecting Fairfax's increased use in recent years of syndicated content across its New Zealand and Australian titles. Features by Dominion Post science reporter Olivia Wannan and  Press senior opinion and science writer Paul Gorman have adorned the pages of Catalyst with guest pieces from New Zealand academics also featuring. Gorman now acts as editor of the Catalyst page.
According to ABC, the six papers Catalyst now appears in had a combined readership of 558,000 in 2014.
The move to expand the page to regional papers appears to show there is appetite among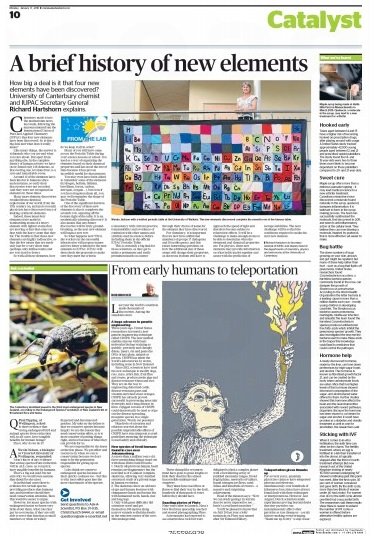 readers for locally-relevant science stories, served up on a regular basis in New Zealand newspapers.
What you will find in Catalyst each week:
Main feature – a story around 600 words by a Fairfax staff writer, guest contributor or a feature from a wire service or international source.
Bob Brockie – insights, a touch of wit and a regular cartoon from scientist and Dominion Post science columnist Bob Brockie.
What we've learnt – a series of briefs outlining major new scientific discoveries or research papers that emerged during the previous week.
Ask a Scientist – readers' science-related questions answered by experts working with the Catalyst team.