A new warning has sounded for the world's smallest dolphin, with a researcher now reporting there are less than 50 Maui's dolphins left.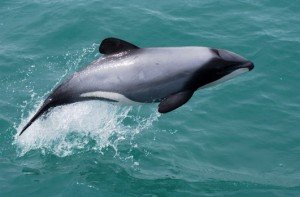 The New Zealand Herald reports that Dr Barbara Maas of the NABU International Nature Conservation Foundation and Otago University's Professor Liz Slooten are presenting new research during discussions with 200 leading cetacean scientists at the International Whaling Commission's Scientific Committee in San Diego.
Research by Dr Maas reports the numbers of the critically-endangered Maui's dolphin, endemic to our waters, have sunk to an all-time low of between 43 and 47 individuals, and just 10 to 12 adult female Maui's dolphins.
She warned that unless the level of fisheries protection was increased significantly, the dolphins could become extinct in just 15 years.
The research has been extensively covered in national and global media. Examples include:
New Zealand Herald: Warning issued after Maui's dolphin numbers drop below 50
Taranaki Daily News: Endangered Maui's dolphin numbers falling
ONE News: Maui's dolphin could be extinct in 15 years – research
Radio New Zealand: 'Loud wakeup call' over Maui's dolphins
NewstalkZB: Maui's dolphin under risk of extinction
3 News: Govt not doing enough to save Maui's dolphins – Greens, WWF
Otago Daily Times: Fewer than 50 Maui's dolphins, summit told
BBC News: 'Loud wakeup call' over critically endangered dolphin
Christian Science Monitor: Can we pull Maui's dolphins from the brink of extinction?
The NewsHub: World's rarest dolphin faces extinction as fewer than 50 remain in the wild
Environment News Service: World's Smallest Dolphins Falling Prey to Extinction
The Week: Researchers say there are fewer than 50 Maui's dolphins left in the world
Tech Times: World's Smallest, Rarest Marine Dolphin Could Go Extinct In 15 Years If Not Protected, Conservationists Warn
The Dodo: The World's Smallest Dolphin Is About To Disappear
Digital Journal: Maui's dolphin of New Zealand nearly extinct, humans at fault
AOL News: World's smallest dolphin nears extinction