Nelson Dentist Rob Beaglehole's campaign against sugar-sweetened beverages is the focus of a segment on TVNZ's Sunday current affairs show.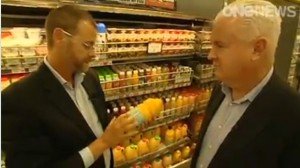 Watch the full clip here.
From the Sunday website:
Bittersweet – One man's mission to get rid of our sweet tooth.
Eat too much sugar, your teeth will rot. We've all had that message drummed into us by the dentist. But there's now evidence that sugar can also make you fat and increase your chances of developing type 2 diabetes, heart disease and some cancers.
You might think that with the medical profession ringing alarm bells about sugar, consumption would be plummeting, but in New Zealand it's not.
It's in all sorts of products including food we consider to be healthy and those so-called energy drinks. And it's the drinks that have doctors like Rob Beaglehole in a spin.
He's so appalled by how much sugar, particularly kids are drinking that he has hit the campaign trail to break our sugar habit.