Scientists from the University of Auckland have just completed a study indicating that e-cigarettes may help smokers kick the habit.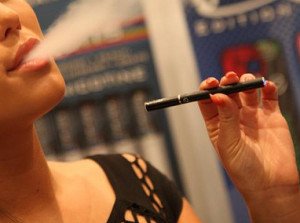 Their research, published in the Cochrane Library this week, combined and analysed data from previous studies looking at the effects of e-cigarettes on rates of quitting or reducing the number of cigarettes smoked.
They found that about nine per cent of smokers who used e-cigarettes containing nicotine had gone smoke-free for a year, while the figure for placebo, nicotine-free e-cigarettes was four per cent. For those who didn't quit, 36 per cent of e-cigarette users halved the number of conventional cigarettes they smoked compared with 29 per cent of those given placebos.
Although the findings are promising, the scientists were quick to point out that they needed more research to confirm them, since the results may not be realistic due to the small number of trials and limited sample of people used in the studies.
Their research was based on two randomised trials analysing data from 662 current smokers – one of which was carried out by The University of Auckland's National Institute for Health Innovation – and also drew on evidence from 11 observational studies.
"Electronic cigarettes have been around in some form for a number of years, but recently their popularity has increased substantially," says Associate Professor Chris Bullen, Director of the University of Auckland's National Institute for Health Innovation and co-author of the study, in a press release. "They are available in New Zealand, but they are not currently recommended for use by our Ministry of Health."
Using E-cigarettes – also known as 'vaping' – mimics the experience of cigarette smoking by giving users a nicotine 'hit' when inhaled but the devices produce vapour instead of smoke. While e-cigarettes are used by many smokers globally, little is known about how realistically effective they are at helping people to stop, or what long-term effects vaping may have.
The research has been covered by New Zealand and global media. Examples include:
New Zealand Herald: Quit rate on e-cigarettes higher with nicotine
The Dominion Post: Kick the habit with e-cigarettes
Yahoo NZ: Study backs vaping for smokers – Yahoo New Zealand
Newstalk ZB: More evidence to suggest e-cigarettes working
New Zealand Herald: E-cigarettes more effective with nicotine
The Daily Mail: E-cigarettes DO help people quit smoking, review finds
The Guardian: E-cigarettes can help smokers quit or cut down heavily, say researchers
BBC News: E-cigarettes 'help smokers quit or cut down'
Fox News: Review of evidence finds e-cigarettes may help smokers quit | Fox News
The Economist: Electronic cigarettes and health: Vapour trail | The Economist
Delhi Daily News: e-cigarettes are as effective as patches in quitting smoking
Our colleagues at the UK SMC collected the following expert commentary. Feel free to use these quotes in your reporting. If you would like to contact a New Zealand expert, please contact the SMC (04 499 5476; smc@sciencemediacentre.co.nz).
Prof. Ann McNeill, Professor of Tobacco Addiction, National Addiction Centre, King's College London's Institute of Psychiatry, comments:
"Given the debates around the role of e-cigarettes in public health, I welcome this new Cochrane review. Cochrane reviews are carried out using a rigorous process and are internationally recognized as providing the best evidence of effectiveness. Whilst the studies included were limited in number and used e-cigarettes which are now largely obsolete, the results are clear. E-cigarettes are helping smokers to quit or substantially cut down the number of cigarettes they smoke. I hope now the debate can move on to how best we can advise and support smokers using these products to stop smoking completely as soon as possible."
Prof. Robert West, Editor-in-Chief of Addiction and Director of Tobacco Research at UCL, comments:
"This study tells us that even the older style electronic cigarettes improve smokers' chances of stopping by about 50%. It's early days but so far it seems that these devices are already helping tens of thousands of smokers to stop each year."