Local palaeontologists have identified – and named – a previously unknown genus of ancient New Zealand baleen whale and two species within it.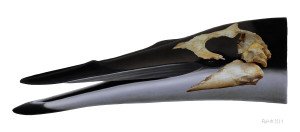 The scientists, from the University of Otago, have named the new genus Tohoraata, which translates as 'Dawn Whale' in Maori.
The two species, Tohoraata waitakiensis and Tohoraata raekohao, lived between 27 and 25 million years ago and were found preserved in a rock formation near Duntroon in North Otago. At that time, the continent of Zealandia was largely or completely under water and the whales were deposited on a continental shelf that was perhaps between 50 to 100 metres deep.
This genus belongs to the toothless filter-feeding family Eomysticetidae and the two whales have now become the first eomysticetids to be reported outside of the USA and Japan.
The new research was published in the journal Papers in Palaeontology this week.
Read more in the University of Otago press release.
The research has been covered in national and global media. Examples include:
Stuff.co.nz: Ancient toothless whale skull discovered in Otago
Otago Daily Times: Otago researchers find new whale genus
3 News: 8m serpent like whale fossil found
New Zealand Herald: 20 million-year-old whale fossils found
Radio New Zealand: Researchers identify ancient NZ whale
Zee News: New Zealand researchers identify ancient whale species
Calgary Sun: N.Z. researchers uncover unknown ancient whales
Science World Report: Ancient New Zealand Whales Were the First to be Completely Toothless
Phys.org: Ancient New Zealand 'Dawn Whale' identified