Traces of the weed killer metsulfuron-methyl were detected in dams that supply 20 per cent of Auckland's water, causing them to be closed from May to September this year.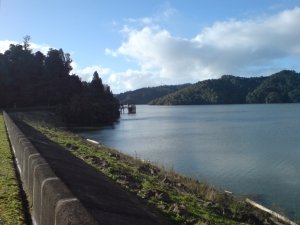 The herbicide had been sprayed on forestry blocks near to the dams in the Hunua Ranges and, after unexpected heavy rain, leeched into the water. Watercare Services,  the Auckland water supplier responsible for the dams, noted that the level of contamination posed no risk to human health.
Watercare Services notified the Auckland Council, but the public was not informed of the incident. Auckland Council's reporting procedures are now being reviewed.
The story has been widely covered in national media:
3News: Council: Watercare 'did everything right'
New Zealand Herald: Review to probe secrecy on dams
3News: Auckland Council not told about contaminated dams
Radio New Zealand: Public not told about herbicide in water
NewstalkZB: Auckland Council confident in water supplies
3News: Auckland Council to review reporting after dam leak
TVNZ: Public kept in the dark after Auckland dams contaminated with weed killer
NZ City: Council reviews reporting after dam leak
Southland Times: Toxins found in Auckland lakes
New Zealand Herald: Weed killer closes dams: Herbicide found in Auckland's water-supply lakes
Otago Daily Times: Weed killer shuts city water dams
NewstalkZB: Toxic herbicide contamination forces dams to shut down
3News: Watercare defends decision to keep toxic dams secret