The 2014 Nobel Prize in Physiology or Medicine has been jointly awarded to Professor John O'Keefe of University College London's Institute of Cognitive Neuroscience and Professors May-Britt Moser and Edvard Moser at the Norwegian University of Science and Technology.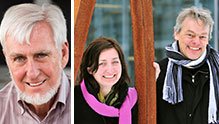 The prize was awarded for their work in discovering an 'inner GPS' positioning system in the brain, telling us how the brain creates a map of the space surrounding us and how we are able to navigate our way through a complex environment.
O'Keefe discovered in 1971 that certain nerve cells in a rat's brain reacted when the animal was in a particular place in the environment, and showed that these 'place cells' were not merely registering visual input but building up an inner map of the environment.
In 2005, May-Britt and Edvard Moser found that other nerve cells in the brain were activated when a rat passed locations arranged in a hexagonal grid, and showed that each 'grid cell' was part of a brain coordinate system for spatial navigation.
Our colleagues at the UK SMC have collected the following expert commentary. Feel free to use these quotes in your reporting. If you would like to contact a New Zealand expert, please contact the SMC (04 499 5476; smc@sciencemediacentre.co.nz).
Prof Christoph Kayser, Chair for Integrative Neuroscience, Institute of Neuroscience and Psychology, University of Glasgow, comments:
"The Institute of Neuroscience and Psychology of Glasgow University congratulates the winners of this year's Nobel Prize for Medicine or Physiology for their ground-breaking work on the neural mechanisms underlying navigation. Their outstanding studies show how important insights can be derived from clever experimental designs and the observation of the brain's activity in relation to behaviour. This work underlines the great importance of basic research into the brains structure and function – a prerequisite for any work towards the understanding and treatment of diseases."
Dr Simon Ridley, Head of Research at Alzheimer's Research UK, comments:
"We would like to extend our congratulations to the winners of this year's Nobel Prize for Medicine or Physiology for their dedication to understanding the complex workings of the brain. Their contribution to research has expanded our knowledge of how the brain functions and how it allows us to navigate through our surroundings."
"Answering these fundamental but important scientific questions helps us to better understand how and why these processes go wrong in diseases like Alzheimer's. For people with Alzheimer's, navigating the world they live in can be a huge challenge and pinpointing the biological mechanisms involved in these processes could inform new ways to help those affected. We must continue to be ambitious in asking big questions in science and use that knowledge to improve people's lives."
Prof Richard Morris, Professor of Neuroscience, University of Edinburgh, comments:
"I am absolutely delighted to learn of the greatly deserved award, for the discovery of the mammalian brain's positioning system, of the Nobel Prize to John, Edward and May-Britt. Two wonderful discoveries that represent a major advance in our understanding of the brain"
Sir Paul Nurse, President of the Royal Society, comments:
"Congratulations to John O'Keefe, a Royal Society Fellow, May-Britt Moser and Edvard Moser, deserving winners of the 2014 Nobel Prize in Physiology or Medicine. They have made an outstanding contribution to neuroscience with their discovery of what has been described as an "inner GPS" system in the brain that allows us to position ourselves and navigate our surrounding environment. This is great recognition for their important work and the Royal Society congratulates all three on their success."
Prof Uta Frith, Emeritus Professor of Cognitive Development, UCL Institute of Cognitive Neuroscience, comments:
"I am hugely excited at the news that my UCL colleague, John O'Keefe, has received this stellar honour, because he has shown that it is possible to literally map the mind. As a founder of cognitive neuroscience, he has done much more than discovering neuronal mechanisms in the brain: he has discovered cognitive mechanisms that explain how human beings and other animals navigate in space. i believe that this beautiful work is heralding a new age of exploration of brain and mind, and I am incredibly pleased that it will attract ever more attention and recognition."
Professor Bill Harris, Head of Physiology, Development and Neuroscience, University of Cambridge, comments:
"O'Keefe's and the Moser's work on the brain's system of knowing where we are, and the neurons that monitor place, has not only revolutionised our understanding of this amazing puzzle, but has also opened the door into problems of place memory and how we learn and remember routes of navigation, and what sleep and dreams may be doing for memory and performance."
Dr Mark Downs, Chief Executive of the Society of Biology, comments:
"O'Keefe began his research over forty years ago, by asking really fundamental open questions about the brain; How do we know where we are? How do we know where to go?"
"Today's tribute shows that by asking the big questions in biology, we can continue to deliver insights into relevant and pressing issues such as those presented by dementia and Alzheimer's disease."
"We are delighted to see the Nobel Prize awarded to a scientist working in the UK. This underlines the importance of maintaining our infrastructure and skills to drive excellence in biology, and attract the best in the world to work here."
Professor John Aggleton, President-Elect of the British Neuroscience Association, comments:
"The British Neuroscience Association is thrilled to learn that Prof John O'Keefe has won the Nobel Prize in Physiology or Medicine, along with May-Britt Moser and Edvard Moser at the Norwegian University of Science and Technology. Prof O'Keefe's discovery of place cells in an area of the brain known as the hippocampus led to the idea of the brain's own cognitive map and understanding how we are able to navigate. As one of the original small group of eminent neuroscientists who founded the British Neuroscience Association, which celebrates its 50th anniversary in 2015, Prof O'Keefe's Nobel Prize is indeed a richly-deserved honour for him that all UK neuroscientist will applaud."
Dr Jeremy Farrar, Director of the Wellcome Trust, comments:
"I am absolutely thrilled that John O'Keefe, our close colleague at the Wellcome Trust, has won the Nobel Prize. John's work, which the Trust is proud to have supported for over ten years, has transformed our understanding of how the brain represents space. He is a world leader who has inspired a generation of neuroscientists, and whose work as founding Director of the Sainsbury Wellcome Centre will further enhance our knowledge of neural circuits and how we behave. I know from our many hours of discussions about this hugely exciting project that he is an individual of great humanity, integrity and personal generosity. He is also a truly exceptional scientist and it is an honour for me to have worked closely with him over the last year. On behalf of myself and the Wellcome Trust I am delighted to offer our very warmest congratulations to John."
Prof John Stein, Emeritus Professor of Physiology, University of Oxford, comments:
"This is great news and well deserved. I remember how great was the scoffing in the early 1970s when John first described 'place cells'. "Bound to be an artifact", "He clearly underestimates rats' sense of smell" were typical reactions. Now, like so many ideas that were at first highly controversial, people say "Well that's obvious"!"
Prof Andrew King, Professor of Neurophysiology, University of Oxford, comments:
"The discovery by John O'Keefe that neurons in the hippocampus, an area of the brain long thought to be associated with spatial memory, possess 'place fields' – firing when an animal is in a particular region of its environment – and that these place fields are updated in different environments, revolutionised our understanding of how the brain knows where we are and is able to navigate within our surroundings. This work and that of May-Britt and Edvard Moser also highlights the importance of electrophysiological studies in animals for revealing major insights into how the brain works."
Prof John Hardy, Professor of Neuroscience, UCL, comments:
"This is a great piece of news. John is a "regular" guy who continues to do great work as he builds up the Sainsbury Wellcome Centre at UCL."