The United Nations Climate Summit, concluding in New York this week, has put climate policy firmly back on the political agenda.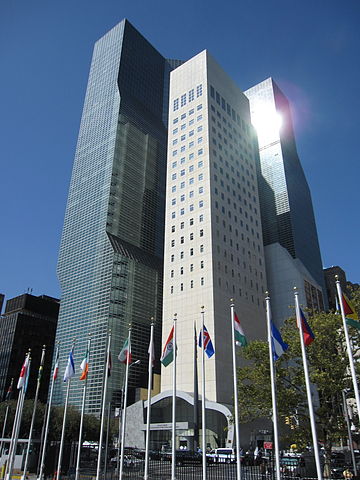 High-profile leaders such as Barack Obama and David Cameron were among the some 100 Heads of State at the international summit, which aimed to raise political momentum towards a new climate agreement to be thrashed out at negotiations in Paris next year.
At the core of the summit were a number of plenary sessions, allowing heads of state and other representatives to give four minute speeches, affirming their commitment to climate change policies and making public their ambitions and (non-binding) targets. These sessions were accompanied by number of smaller meetings focusing on issues such as deforestation and financing of low carbon initiatives.
A representative from New Zealand did not speak in an allocated slot at the summit due to issues arising from the recent election, according to a Ministry of Foreign Affairs spokesperson. However Minister of Foreign Affairs Hon. Murray McCully did participate in the summit and New Zealand's Climate Change Ambassador Jo Tyndall gave an address on behalf of the Global Research Alliance on Agricultural Greenhouse Gases, highlighting the work of the Alliance.
Although no formal negotiations or targets were agreed, a number of countries outlined their commitments to lowering emissions and deforestation, and limiting global temperature rises to less than 2°C.
Read United Nations Secretary General Ban Ki Moon's summary, providing a concise outline of the summit's key outcomes.
Ahead of the summit, protests and marches drew thousands to the streets around the world – most notably Wall Street in New York, where over 100 protesters were arrested. In New Zealand, a smaller event drew 300 protesters to Queen Street in Auckland.
Budget blowout warned
Carbon dioxide emissions, the main contributor to global warming, are set to rise again in 2014 – reaching a record high of 40 billion tonnes, according to a new global stock-take, published on Monday ahead of the summit.
A 2.5 per cent projected rise in burning fossil fuels is revealed by the Global Carbon Budget 2014, an analysis published in the journal Earth System Science Data Discussions.
According the authors of the report, this means that the future global 'carbon budget' of 1,200 billion tonnes – calculated as the total upper limit international governments can afford to emit without pushing temperatures higher than 2°C above pre-industrial levels – is likely to be used up within 30 years, just one generation from now.
Read expert reaction to the Global Carbon Budget, collected by the Science Media Centre.
The climate summit has be widely covers in New Zealand. Examples include:
TVNZ: Obama urges world to follow US lead on climate
Radio New Zealand:SIDs take lead at UN Climate Change Summit
Stuff.co.nz: World leaders' pledge on climate change
New Zealand Herald: Climate change summit: Talk, pledges, but no commitment
Radio New Zealand: Kiribati's Tong pleas for action at UN
New Zealand Herald: Leonardo DiCaprio: Global warming not 'fiction'
3 New: Leo DiCaprio urges action on climate change
Radio New Zealand: Key and Abbott absence at UN summit noted
MSN NZ: UN summit urges ambitious climate deal
TVNZ: World leaders told to set new course on climate change
New Zealand Herald: Obama urges world to follow US lead on climate
Radio New Zealand: Maori join NY climate change protest
Yahoo News NZ: McCully must table emissions target while at UN – GreensZealand
Radio New Zealand: SIDs take lead at UN Climate Change Summit