As the number of cases of Ebola in West Africa continues to rise, the World Health Organization (WHO) plans to hold a two-day meeting of its emergency committee looking at whether the current outbreak is a public health emergency of international concern.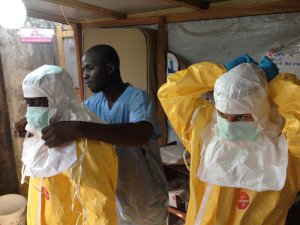 The latest update from the WHO estimates that as of 1 August 2014, the cumulative number of cases attributed to Ebola virus disease in West Africa stands at 1603 including 887 deaths. WHO has also stated that its emergency committee meeting will end with a press conference on Friday 8 August, at 19:00 NZT.
Health authorities speaking to the media last week noted that the risk of Ebola spreading to New Zealand is extremely low. The Science Media Centre has also provided background commentary from UK experts on the spread of the disease in West Africa.
Although there is currently no vaccine or drug treatment available for the disease, Dr. Anthony Fauci of the US National Institutes of Health told CBS This Morning that early animal trials with an experimental vaccine were promising and a full vaccine could be ready in 2015.
The Ebola outbreak is still being widely covered by New Zealand media. Examples include:
3 News: Experimental Ebola drug hard to produce
Radio New Zealand: Flights suspended due to Ebola fears
Newstalk ZB: Experimental serum best chance for US missionaries
3 News: Sierra Leone troops guard Ebola clinics
Otago Daily Times: Second Ebola patient wheeled into Atlanta hospital
MSN News: World Bank pledges millions to Ebola fight
TVNZ: Nigeria admits doctor was not quarantined before Ebola death