3 News reporter Adrien Taylor looks in the environmental costs of meat in New Zealand following a widely reported US study in PNAS.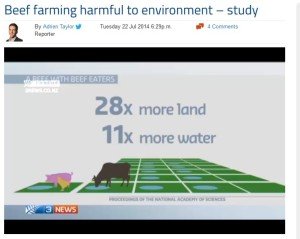 An extract (read in full and watch the news clip here):
A new study into the environmental impact of meat production has singled out beef as the worst offender.
The study says beef requires far more resources than other meats to produce, but industry representatives here say they are working on making the red meat greener. 
New Zealand red meat exports total almost $8 billion annually.
The new study, based on meat production in the United States, which did not include lamb, is pointing the finger at the environmental impact of beef production.
It found beef needs 28 times more land than that required for the production of poultry and pork, and it requires 11 times more water.