AusSMC: The National Oceanic and Atmospheric Administration (NOAA) in the US has released its global temperature analysis for 2013. It has found that the year 2013 ties with 2003 as the fourth warmest year globally since records began in 1880 and it marks the 37th consecutive year (since 1976) that the yearly global temperature was above average. Below Australian experts respond.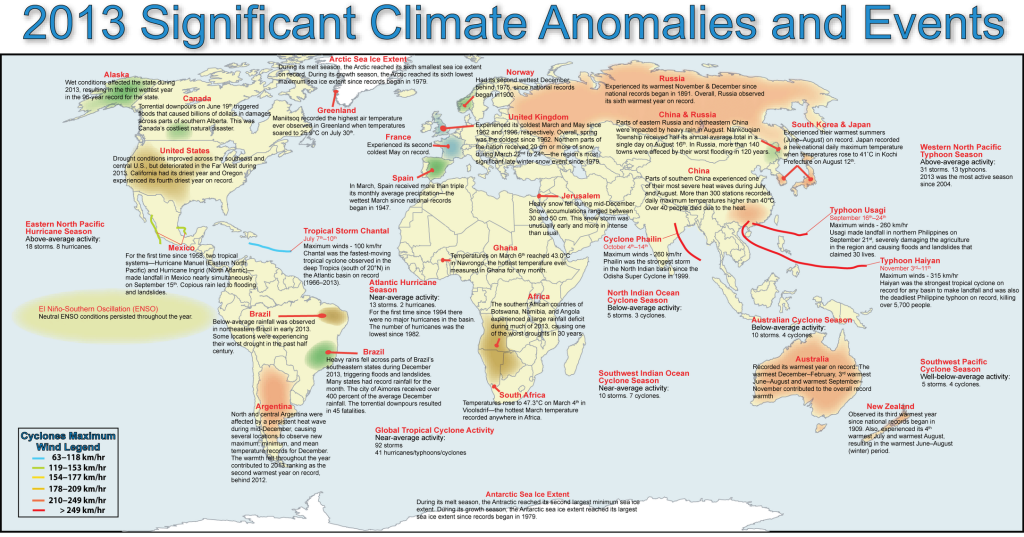 Emeritus Professor Ian Lowe, professor of science, technology and society at Griffith University, Queensland and President of the Australian Conservation Foundation, comments:
"The NOAA report confirms at a global scale what we know from Australian Bureau of Meteorology data released recently: the world is getting steadily warmer. While some media outlets are repeating the myth spread by deniers that there has been a pause in warming, the NOAA data confirm that the trend of global warming is continuing. It also confirms that we are seeing more extremes of weather, as the science has been warning us to expect for 25 years. This is further evidence that our governments need to pay attention to the science rather than uninformed self-appointed critics, and take concerted action, both to reduce our domestic production of greenhouse gases and to halt the disastrous proposals to expand fossil fuel exports."
Professor Neville Nicholls, School of Geography and Environmental Science at Monash University, Victoria, comments:
"The warmth of recent years is even more dramatic if you look at global temperatures over land. Over land, every one of the last 13 years (2001-2013) is in the list of the warmest 14 years on record. Only one year from the 20thcentury (1998) is amongst the 14 warmest years over land. 1998 was the fifth warmest year over land; 2007, 2010, 2005 and 2013 were each warmer than 1998. Global temperatures over land have increased at a rate of about 1.5°C per century, over the last 15 years."
 Professor Dave Griggs, CEO of ClimateWorks Australia & Director of the Monash Sustainability Institute at Monash University, comments:
"The global temperature figures are out and it feels like groundhog day talking about what a hot year it has been, the 37th consecutive year with temperatures above the 20th century average."
Professor John Quiggin is an Australian Research Council Laureate Fellow in the School of Economics at the University of Queensland and a member of the Climate Change Authority comments:
"The NOAA has reported, yet again, evidence on the continuing upward trend in global temperatures. The safest prediction that can be made with respect to this news is that it will do nothing to change the actual or ostensible opinions of self-described "sceptics", most of whom will continue to think that the occurrence of a single relatively hot year (1998) in the late 20th century implies that global warming has "stopped" or "paused" in the 21st century.
"Only someone completely ignorant of time series statistics could make such a claim. Sadly, such people are numerous, and determine the positions adopted by sections of the media and some members of the current government, as well as of conservative political parties in most English speaking countries and elsewhere. In these circumstances, there is little chance that effective action will be taken to stabilise the global climate before it is too late."