TV3's morning current affairs show Firstline did a very progressive thing when it set up a regular science slot in its line-up this year – the only one on New Zealand mainstream television, as far as we know.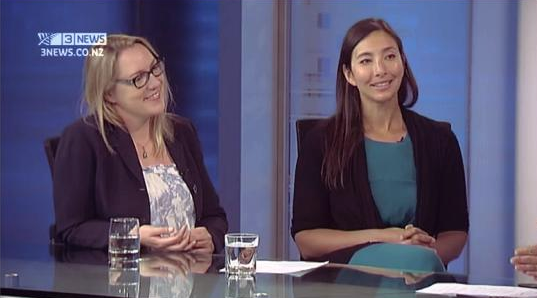 The slot involves scientists including Massey University's Dr. Heather Hendrickson and the University of Auckland's Dr. Michelle Dickinson spending 7 – 8 minutes each week wrapping up the big science stories of the week.
It is actually a big ask for a scientist. Journalists are used to putting together stories and commentary on a wide range of subjects. But in the world of science, greater preference is given to the depth of your knowledge within a subject, rather than breadth of knowledge across numerous subjects. Scientists who speak up about areas they haven't directly researched often attract criticism from their colleagues, the media and the public.
That goes to the heart of being an "expert" – you typically need to have devoted years of study and research in a particular field, validated by peer-reviewed papers in high-impact journals.
So it takes a brave scientist then to go on national TV and talk about everything from breast cancer to space science. But that is exactly what these scientists have been asked to do on Firstline and they really rise to the occasion.
In the last segment for the year, Heather and Michelle pick the stories they thought were important – among them, the Curiosity Rover's exploration of Mars, the first lab-grown hamburger and the analysis of 400,000 year-old human DNA.
All of these subjects are incredibly different and incredibly complex. But what the media – and the public need, is simplicity. Encapsulating the significance of a new study or scientific development is a real skill and requires the confidence to trust in your own ability to accurately represent the science while imparting the significance of it. Not every scientist is willing or capable of doing this in a way that suits the needs of the media. So to find a collection of New Zealand scientists who can, and are willing to do it on a regular basis is a great thing.
We look forward to seeing more of scientists on Firstline in 2014 and congratulate TV3 on its commitment to the segment through the year. Heather and Michelle both went through the SMC's Science Media SAVVY course this year. The two-day course is designed to give scientists the skills to work confidently with the media, including in front of the camera, and will be returning in 2014 with workshops throughout the country. Find out more about SAVVY here and register your interest.