Our colleagues at the UK and Australian Science Media Centres gathered the following experts comment on the devastating Typhoon Haiyan.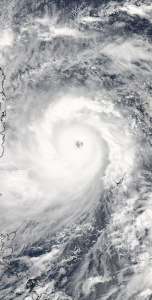 Professor Priyan Mendis is Leader of the Advanced Protective Technology for Engineering Structures (APTES) Group at the University of Melbourne. He comments:
"Although Typhoon Haiyan is a severe Category 5 storm with reported maximum sustained winds of 315km/h when it hit the Philippines, it is not surprising to see these types of events in the world. Cyclone Tracy in 1974 in Australia is a good example – the wind gauge in Tracy was destroyed at 217km/h, although the speeds may have reached closer to these speeds. October last year we watched Hurricane Sandy in USA*.
"According to reports,  there have been 10,000-plus deaths due to Haiyan, mostly caused by building collapse and drowning. Between 70 percent and 80 percent of buildings and  homes in the path of the typhoon had been destroyed.
"We now have the technology and expertise to build typhoon-proof houses and buildings for these types of events. There are some low cost solutions for remote areas. These systems will sustain less damage during typhoons, saving lives and allowing rapid, low cost reconstruction, and could involve modular construction techniques. We have advanced  computer-based techniques to predict damage.
"Although we have progressed a bit in managing these disasters post-event, it is surprising that we still have not established proper global planning and design guidelines to avoid large numbers of human casualties. Presently, very little funding is going towards implementing these design rules to improve the built infrastructure, as we tend to forget these extreme events few months after the disaster."
*My article on Hurricane Sandy is here.

Professor Jonathan Nott is from the Australasian Palaeohazards Research Unit in the School of Earth and Environmental Sciences at James Cook University. He is an expert in the long term records of natural hazards and is currently in Cairns. He comments: 
"Typhoon Haiyan appears to be one of the strongest (most intense) tropical cyclones to make landfall in recorded history and one of the strongest cyclones ever observed. At present it is difficult to know the exact wind speeds, central pressure and height of storm surge but the forecast maximum wind speed was one of the highest, and possibly the highest, ever forecast. Storm surges of 4 to 5 metres were forecast and it is likely that they were greater than this. There was also a forecast for a central pressure of 895 hPa. Australia hasn't had a cyclone of this intensity except Cyclone Mahina, North Queensland, 1899, which was possibly even more intense than Haiyan. Cyclone Mahina holds the world record for a storm surge (14m)."
Previously issued comments:
Associate Professor Martin Mulligan is from RMIT University. He was a Chief Investigator on a research project conducted for AusAID on what could be learnt from the post-tsunami social recovery operation in Sri Lanka and southern India. He comments:
"It is always the most vulnerable people who bear the brunt of such ferocious disasters and I'm not convinced that the disaster response 'industry' has learnt the lessons on how to rebuild devastated communities. The immediate post-tsunami relief effort was impressive but many mistakes were made – perhaps inevitably – in the targeting of aid for long-term social recovery.
"Aid organisations undoubtedly have more to learn from post-tsunami success stories about how to work within traumatised communities in order to ensure that aid funding is well targeted and effective.
"This is a terrible time for Australia to be cutting its international aid budget and to be folding AusAID into the Department of Foreign Affairs and Trade. Funding cuts and restructuring make it more difficult for Australia's aid organisations to learn and apply the lessons of past disaster experiences.
"Australia should make a generous contribution to the relief effort for the cyclone-affected areas in Leyte province. Relief must be delivered as quickly and efficiently as possible. However, once the immediate relief has been accomplished, the aid agencies should ensure that their efforts to rebuild devastated communities are informed by past experiences."
Professor Paul Arbon AM is Director of the Torrens Resilience Institute. The Torrens Resilience Institute was established by the Government of South Australia in 2009 to improve the capacity of organisations and societies to respond to disruptive challenges such as disasters which have the potential to overwhelm local capabilities and plans. The Institute comprises the University of Adelaide, Cranfield University, Flinders University and the University of South Australia. He comments:
"With the devastating impact of Typhoon Haiyan in the Philippines it is timely to remind ourselves of the lessons learned from previous international interventions during catastrophic disasters. Foremost, it is important that we make donations with thought and care.
"Typically, the well-meaning efforts of communities around the world result in an unmanageable influx of all kinds of goods into disaster zones and this creates  a log jam in ports and airports that disables more targeted disaster relief. The best form of aid that we can provide is donation of funds to one of the experienced and reputable NGOs working in the disaster zone.
"Second, while this immediate phase reminds us of the frailty of communities in the face of these extreme natural events and requires urgent and expert aid, we must also remember that the most difficult phase of disaster relief will occur over the coming months and years when communities will struggle to find the support that they need as the world's attention moves on to the next disaster or crisis. For us at home these events underline the importance of community resilience – those simple things that we can all do to strengthen our communities should we ever need to confront and survive through such a catastrophic event."
UK SMC EXPERT COMMENT:
Dr Norman Cheung, an expert in environmental hazards and disaster management at London's Kingston University, comments:
"Super Typhoon Haiyan is likely to be the most costly cyclone hazard ever experienced by the Philippines – both in terms of the devastation it has caused to parts of the country and the loss of human life.  The total damage will probably exceed 10 billion US dollars. The death toll, currently being reported to be 1200, will almost certainly rise when the actual losses become clearer in the coming days.
"Despite advanced satellite surveillance, accurate weather forecasts and the mass evacuation undertaken, the Philippines is still extremely vulnerable to typhoon hazards no matter how familiar the country is with them or how well prepared it is.
"The major reasons for catastrophic losses are due to poor building materials and quality.  Weak connections between roofs and walls expose the buildings to consistent extreme wind force. The marked change of internal and external pressure made them collapse completely.
"Although Haiyan is no longer classed as a super typhoon, it is still of major concern as it will bring an anticipated 10-16 inches of rain and further flooding caused by the storm surge along the coastal communities in Vietnam and South China."