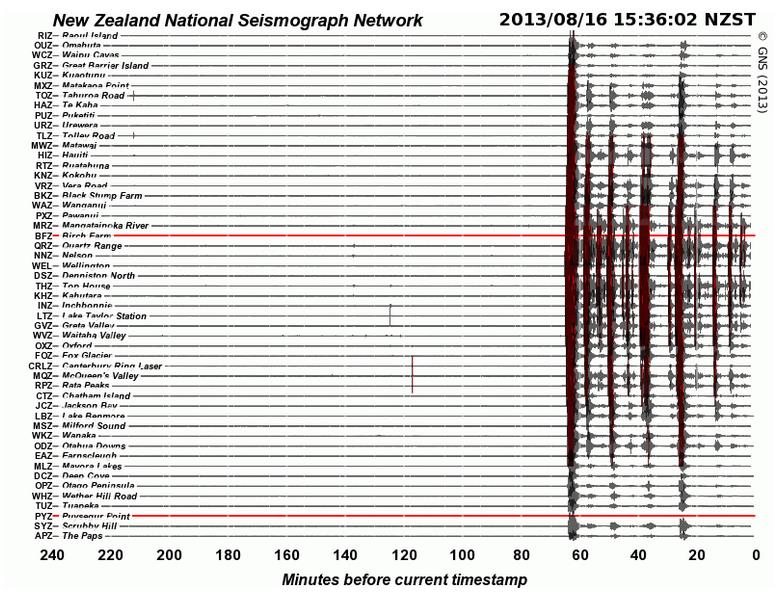 A 6.6 magnitude earthquake (upgraded from 6.2) struck the the middle of New Zealand at 2.31pm on Friday (August 16).
The quake was centred 5km from Seddon, in the North South Island, and measured by Geonet to be at a depth of 8km.
We will be updating this page as more information comes in. Damage and some power outages have been reported although no injuries have been confirmed. After shocks in the 5-6M range, continue to be felt in Nelson, Blenheim and Wellington.
Live feeds of quake information, news and photos are running on Stuff.co.nz and the nzherald.co.nz.
More information on being prepared and staying safe during, and after an earthquake is available on the Civil Defence website.
Our colleagues at the AusSMC collected the following expert commentary. Feel free to use these quotes in your reporting.
Professor James Goff, Leader of the Tsunami and Natural Hazards Research Group, School of Biological, Earth and Environmental Sciences, University of New South Wales, comments:

"The recent earthquake to hit New Zealand follows on from a series of quakes centred around the NE part of the South Island of New Zealand. GeoNet, the official source of geological hazard information for New Zealand, indicates that this was a Mag 6.2 earthquake around 8 km deep that occurred just after 2.30 pm. It follows a larger, Mag 6.5 event, that occurred on the 21 July 2013 in the same general area. I was there at the time and experienced the groundshaking associated with it.
"New Zealand sits astride the tectonic boundary between the Australian and Pacific Plates and as such has experienced numerous large earthquakes in historic time. This present set of earthquakes appear to be taking place in a relatively poorly understood area of the boundary, but the proximity to Cook Strait does raise the fear of a possible local tsunami, not generated by the earthquake itself but by possible submarine landsliding (caused by the groundshaking) in Cook Strait. As noted by the Joint Australian Tsunami Warning Centre though, there is no tsunami threat to Australia. There will undoubtedly be aftershocks that follow-on from this recent earthquake."