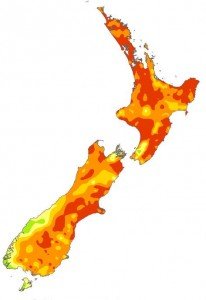 ONLINE MEDIA BRIEFING – FRI 22 MAR
The 'big dry' continues, with the entire North Island officially declared a drought zone and ongoing water restrictions in many regions.
How bad is this drought, and how long is it likely to last? What are the ongoing impacts on soil moisture and river flows, and how much rain will it take to reverse them? What do previous drought records show, and are things getting worse? Does a changing climate mean we should we expect more frequent severe droughts in future? Is drought the 'new normal'?
The Science Media Centre held an online background briefing for journalists with scientists from the National Institute of Water and Atmospheric Research (NIWA) to answer these and other key questions about the drought.
SPEAKERS:
Dr Andrew Tait – Climate Scientist, NIWA, on soil moisture status
Roddy Henderson – Hydrologist, NIWA, on river flows
Dr Brett Mullan – Climate Scientist, NIWA, on historical context and outlook
Dr David Wratt, Chief Climate Scientist, NIWA, on climate change and drought
LISTEN BACK TO AUDIO FROM THE BRIEFING:
VIEW PRESENTERS' SLIDES: