Saturday morning stargazers may catch a glimpse of the 45 metre asteroid called DA14 as it passes over New Zealand on its 'near miss' flight past Earth.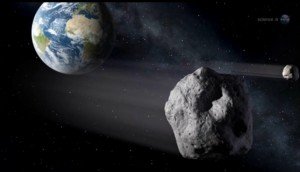 The asteroid, identified last year, will pass within 28,000km of Earth at around 8.30am Saturday NZT – closer than the orbit of some man-made satellites orbiting the Earth.
NASA's Near-Earth Object Program Office has emphatically stated they "can accurately predict the asteroid's path with the observations obtained, and it is therefore known that there is no chance that the asteroid might be on a collision course with Earth."
NASA has posted an animated projection of the flyby and further links here.
Carter Observatory programmes manager John Field told the Dominion Post that the asteroid will be visible to New Zealanders from 2am to sunrise on Saturday (16 Feb) through a telescope or a good pair of binoculars.
"It's pretty rare to see these, but now that we have better telescopes and more people hunting we're getting more reports than ever before," he said.
"Ten years ago, none of our telescopes could even spot them."
Auckland's Stardome astronomer Dr Grant Christie will also be tracking the asteroid at Stardome from very early on Saturday morning.