A campaign calling for more awareness over the impact of cats on native bird life has garnered international attention thanks in part to some strongly worded rhetoric.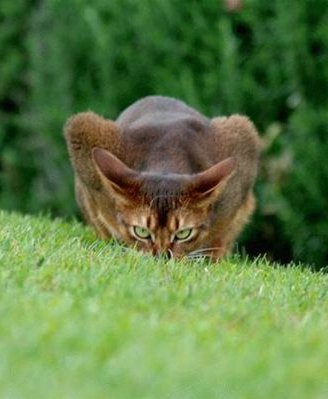 "That little ball of fluff you own is a natural born killer," warns the home page of the Cats to Go website. "Every year cats in New Zealand destroy our native wildlife. The fact is that cats have to go if we really care about our environment."
Economist and businessman Gareth Morgan set up the website to raise awareness, encourage cat owners to undertake efforts to prevent their pets from killing native species, and re-think getting a new cat once their current pet passes away. His views, described as 'anti-cat' by some, have proven divisive among the New Zealand public.
Dr Morgan spoke exclusively about the campaign to Campbell Live (see his interview here) but the New Zealand media have reported widely on the now hotly debated issue, drawing attention from international news outlets.
Examples of international coverage include:
ABC News: NZ to Eradicate Pet Cats? Purr-Ish the Thought!
Daily Mail: 'Cats should be banished from New Zealand' says campaigner who fears for future of native birds
The Washington Post: Call to eradicate New Zealand's pet cats draws hisses from cat lovers
FOX News: New Zealand campaign seeks to ban cats as pets
The Guardian: New Zealand cat lovers pounce on eradication campaign
New Zealand coverage:
Stuff.co.nz: Wineries And Stoats Also Bird Killers
One News: Gareth Morgan's anti-cat campaign goes global
MSN News: Cat lovers slam campaign to eradicate pets
Rotorua Daily Post: Cat lovers' claws out for Morgan
Nelson Mail: Fur flies over Gareth Morgan's campaign to curb cuddly killers
The Press: Gareth Morgan Cat Controversy
Manawatu Standard: Gareth Morgan's Plans To Eradicate Cats Raises Hackles…
Otago Daily Times: Support in city for Morgan's cat claims
3 News: Gareth Morgan's 'Cats To Go' campaign questioned
Timaru Herald: Economist Gareth Morgan Takes Aim At Cats
Dominion Post: Gareth Morgan: Cats are Natural Born Killers
Taranaki Daily News: Fur flies over eradication
RadioLIVE: Should we eradicate cats?
The National Business Review: A case of animal racism from Gareth Morgan
Radio New Zealand: Conservation group backs anti-cat campaign
The Press: Gareth Morgan Says Cats Should Be Wiped Out to Save our birds
Stuff.co.nz: Gareth Morgan creates website for anti-cat cause
The Listener: Faster, pussycat! Kill! Kill!
Dominion Post: Gareth Morgan Cats To Go
New Zealand Herald: Are cats too much of a threat to native wildlife?
TVNZ News: Conservationists back anti-cat campaign