UPDATED: A second scholarship covering course fees is now available. See below for more details.
Announcing the dates of the Science Media Centre's new media skills workshop for scientists, now accepting applications! 
The next Science Media SAVVY course will be held Thursday and Friday 14 – 15 March 2013 in Auckland, hosted by the Liggins Institute, 85 Park Road, Grafton campus of the University of Auckland.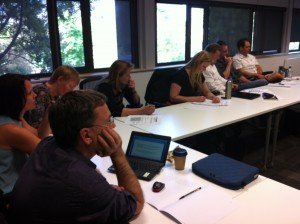 Our pilot course in Christchurch was a challenging and positive experience for participants, who ranged from senior scientists with little first-hand knowledge of the media, to emerging researchers with several interviews under their belt, all the way to seasoned veterans in front of the camera.
The flexible and interactive nature of the workshop adapts well to different confidence and experience levels. All researchers with a desire to improve their public outreach are welcome to apply.
What participants had to say:
"I thought the course was fantastic – intense and a great and very rewarding learning experience."
"Talking to representatives from the different media at the end of day two was great."
"Hearing things from the journalists' perspective and what they are looking for was very informative. The practice pitches and recorded sessions were also very useful."
"Better than I had anticipated…I've taken a lot away from it and feel a lot less terrified of potential media encounters in the future."
Read Sciblogs contributor Michael Edmonds' take on the experience.
More information on Science Media SAVVY workshops is available here. The Science Media Centre would like to thank SAVVY's founding patron Dr Mark Quigley for his ongoing support.
Applicants for this workshop must be:
– Active researchers or scientists (at any stage of their career)
– Able to nominate a specific project or area of expertise they think is of potential interest to media
Course fees for the Auckland two-day workshop will be $795 +GST.
One scholarship covering full course fees, sponsored by 2011 Prime Minister's Science Media Communication Award winner Dr Mark Quigley, is available to a qualifying postgraduate student who shows exceptional promise in the field of science communication.
A second scholarship covering full course fees, sponsored by STRATUS, is available to a qualifying* early to mid-career researcher who shows exceptional promise in the field of science communication.
*Successful applicant (to be chosen by the Science Media Centre) will hold a PhD, must be pre-Associate Professor, and will be expected to report back on the experience to STRATUS. Preference will be given to STRATUS members, and applicants from the University of Auckland.
STRATUS is a network of emerging and early career researchers in the Auckland region. STRATUS was formed in 2008 by a group of researchers at the University of Auckland who felt the need for a formal career support system and unified voice for emerging scientists. STRATUS aims to identify and address issues of importance to emerging scientists, provide a network of support for emerging scientists in Auckland, and to raise the profile of emerging scientists and science, both within institutions and with the wider community.
APPLICATIONS CLOSE FRIDAY 8 FEB 2013 AT 6 PM