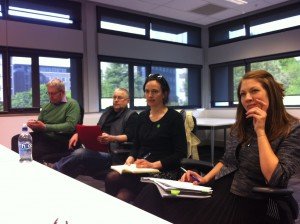 Science Media SAVVY, a new series of media skills workshops the Science Media Centre is running for scientists, kicked off to great effect this week in Christchurch.
Twelve talented researchers, selected from a pool of over 50 applicants, were put through their paces by Peter, Dacia and veteran media trainer Michael Brown.
Over two full days, the scientists had the chance to improve their on-camera presence, learn how enthusiastic they can be without losing credibility, brainstorm compelling ways to explain tough concepts, and practice saying what they really mean to say.
At the end of it all, they got hone their best science story pitches before  a panel of real-live journalists. (And, man, did they ever rise to the challenge!)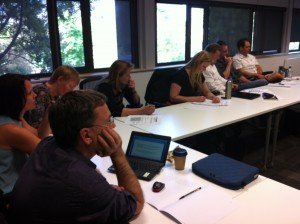 Geologist Dr Mark Quigley — awarded the 2011 Prime Minister's Science Media Communication prize for his intensive media work in the wake of the Christchurch quakes — was instrumental in getting this initiative off the ground.
He not only championed the idea behind the two-day course, but dedicated a portion of his PM's prize money to sponsoring it.
His generosity enabled this first workshop to be offered free-of-charge for Canterbury residents, as well as establishing a student scholarship for future workshops on an ongoing basis.
We were fortunate enough to have Mark join us throughout, sharing his perspective and valuable insights with participants.
A big thanks to our media panel (top image, left to right): Paul Gorman – The Press; Graeme Hill – RadioLive; Dr Rebecca Priestley – The Listener; Renee Graham – One News, TVNZ. And congrats to each and every one of our SAVVY alums — you really wowed their socks off!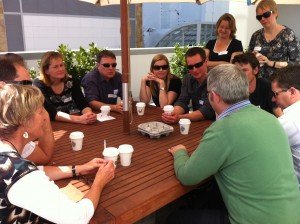 What participants had to say
"I thought the course was fantastic — intense and a great and very rewarding learning experience."
"Talking to representatives from the different media at the end of day two was great."
"Hearing things from the journalists' perspective and what they are looking for was very informative. The practice pitches and recorded sessions were also very useful."
"Better than I had anticipated…I've taken a lot away from it and feel a lot less terrified of potential media encounters in the future."
Read Sciblogs contributor Michael Edmonds' take on the experience.
For more info on upcoming Science Media SAVVY workshops, follow the link to the SAVVY resource page.