Science Media Centre manager and Sciblogs editor Peter Griffin hosts this week's Sciblogs podcast, with a special on the Curiosity Mars Rover landing – the biggest science news event since, well the discover of the Higgs Boson.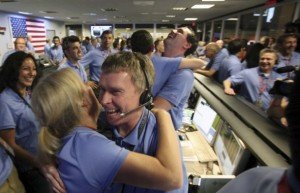 You'll enjoy the insights New Zealand scientists provide in the podcast on the Curiosity mission. Professor Craig Cary, a microbial ecologist and extremophile expert from Waikato University checks in to explain how NASA has been using Antarctica'a Dry Valley's as a test bed to prepare to search for life on Mars.
Dr Allan McInnes, an engineering lecturer at the University of Canterbury worked on the Opportunity and Spirit mars Rovers from 2000 – 2003 so knows a thing or two about what's involved in these highly complex and expensive missions – we ask him what's changed after a decade of rover innovation at NASA.
Turning to the big local story of the week, the eruption of Tongariro, we talk to University of Canterbury natural hazards expert, Dr Thomas Wilson, about this week's eruption and some of the potential future sceanrios for activity at Tongariro.
And we round out the podcast with John Kerr from the Science Media Centre taking us through three interesting science papers from New Zealand authors that were published this week
Click below to listen to the podcast
[audio: http://ia601203.us.archive.org/10/items/SciblogsPodcastEpisode39CuriosityThrills/SciblogsEpisode39.mp3]