Longterm opium use – even in relatively low doses – is associated with almost double the risk of death from causes such as circulatory diseases, respiratory conditions and cancer, researchers say.
Although the study of  50,045 people in Iran's Golestan Province focused on opium for recreational purposes, the research also has significant implications for medicinal uses of opium-derived painkillers – such as morphine and codeine,  Irfan Dhalla, assistant professor at St. Michael's Hospital in Toronto, wrote in an accompanying editorial in the BMJ.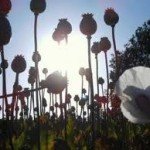 About 17% (8487) people reported opium use, with an average duration of 12.7 years, and  2145 deaths were reported.
Prof Dhalla noted that a separate study in the United States on osteoarthritis patients found a nearly two-fold mortality increase among those who used opioids compared to those who took non-steroidal anti-inflammatory drugs.
Other research also indicated there were risks apart from the chance of accidental overdose, even though more research is needed to pin down exactly what's going on.
"For the management of chronic non-cancer pain, a better prescription may be caution," Prof Dhalla wrote.
Subjects who entered the  study between January 2004 and June 2008 ranged in age from 40 to 75 and most were tracked until May 2011. Researchers adjusted data for variables such as poverty and cigarette smoking, but  still found an 86% increased likelihood of death from major causes among people who used opium. An estimated 15% of all deaths in the population were attributed to opium
Observing patients outcomes did not specifically prove that opium caused the death risk, but researchers were  unable to find any alternative explanation. The effects were similar in men and women, in smokers and non-smokers, and in people who live in urban and rural communities. Taking opium orally and smoking it both carried similar risks.
Colleagues of the SMC in Britain collated comment on the study from experts there:
Professor Donald Singer, member of the British Pharmacological Society, said:
"The key message in this BMJ prospective study on opiates is of interest to pharmacologists, health professionals and members of the public: use of recreational opium, whether raw or modified, smoked or swallowed, appears associated with increased risk of death from a wide range of diseases, including circulatory and respiratory disorders, and cancer.
"However the results need to be interpreted with caution. This work is from north-east Iran and may not be typical for other ethnically or genetically different individuals. The authors note that they cannot be sure whether the relationship is causative. And oddly, risks from opiates did not appear to be amplified in people with high blood pressure, smokers or diabetics, raising some questions about the accuracy of clinical data collection."
 Professor Roger Knaggs, spokesman on pain management from the Royal Pharmaceutical Society, said:
"Although this study has shown a link between opioids and death it doesn't prove that opioids are causing these deaths.
"Opioid medicines, such as morphine, are strong painkillers used in the treatment of severe pain.  This new study carried out in Iran suggests that people taking opioids may have a higher death rate, however it does not confirm that they are related.  It is unclear how many people were prescribed these medicines to treat pain and how many people took for recreational purposes.  Only one of the painkillers studied is available in the UK.
"Other research in the US has suggested similar findings for patients prescribed opioid medicines for severe pain, although national data from the UK would suggest that there only a small number of deaths each year directly associated with opioid use.  It is important not to stop taking a prescribed opioid painkiller suddenly and if you have any questions or concerns discuss with your doctor or pharmacist."