New research has shown the survival of Hector's dolphins in Marine Protected Areas is slightly increasing due to a lack of net fishing – but the dolphins are still at risk of extinction.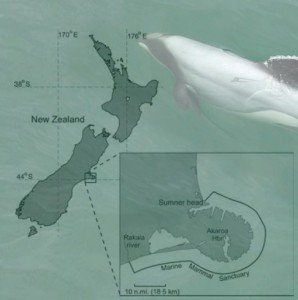 The study, published this week in the Journal of Applied Ecology, details the findings of a 21-year survey of dolphin numbers in a marine reserve off the coast of Christchurch.
Covering  1170 km2  of sea off New Zealand's South Island, Banks Peninsula Marine Mammal Sanctuary was designated in 1988 to prevent the dolphins being killed by gillnet and trawl fisheries.
The results of the study showed that since the MPA was designated, the dolphin's survival has increased by 5.4%. According to one of the researchers, Dr Liz Slooten (University of  Otago) : "This study provides the first empirical evidence that Marine Protected Areas are effective in protecting threatened marine mammals."
But, she warns, that while survival has improved significantly, it is not yet high enough to prevent the population from continuing to decline.
The research has been covered in both New Zealand and international media. Examples include: