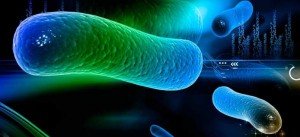 A symposium on the future of synthetic biology (PDF) — designing and building new life forms from the ground up — will take place in Sydney next week (13 Mar), as part of a large international conference. This rapidly emerging technology has potential applications in medicine, agriculture, industrial processes, renewable energy and food science and raises plenty of questions for researchers,  ethicists and the wider society.
will take place midway through the annual international Human Genome Meeting, which this year will cover a range of topics including: genomics of indigenous populations, human migration and disease, rare genetic disorders, gene technology and ethics, with a focus on the use of genomics in personalised medicine.
New Zealand researchers,  including Martin Kennedy from University of Otago and Dr Don Love from University of Auckland, have been involved with HGM2012's planning and will be making their way to the event. The synthetic biology symposium will also feature Waikato University's Maui Hudson discussing community engagement and ethics of novel biotechnologies.
For background on synthetic biology in New Zealand, have a look at the excellent Futurewatch trend summaries put together by the former Ministry of Research Science and Technology (now MSI). Since MoRST's demise, the reports have sadly lost their home on the web. But thanks to the trusty Way Back Machine, you can still read it here.
And you can check out the latest from the former Futurewatch author Robert Hickford on Sciblogs.