The stranded container ship Rena has finally broken apart after grounding on the Astrolabe reef several months ago. Although most of the fuel oil carried by the ship has been removed, the broken vessel still presents a variety of hazards.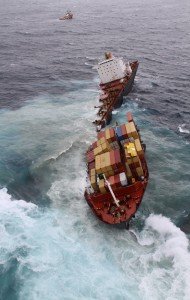 The ship, which grounded on the reef in October 2011, was torn in two by high seas and rough weather sometime Saturday night.
Recovery workers estimate that between 200 and 300 containers of the approximately 830 remaining on the Rena were lost overboard when the two sections of the ship separated, of which 30 had been identified. However due to poor visibility and the rough conditions around the Rena, it was difficult to gain a more accurate count.
Debris from the ship and lost containers have begun landing on the coast (see media coverage below).
Over the last few months, the Science Media Centre has collected a wide range of expert commentary and analysis regarding the unfolding Rena situation.
Not long after the grounding of the Rena, experts contacted by the SMC warned of the risks poses by floating containers:
Professor Nigel Barltrop,  Research Director at University of Strathclyde's Engineering Department noted the variety of hazards a grounded ship like the Rena presents, saying, "Apart from oil leaks there is the possibility of chemical contamination from cargo. The containers themselves are a collision hazard, especially to fast craft and smaller vessels."
Dr. Simon Boxall, National Oceanography Centre, University of Southampton, commented, "[Loose containers] are potentially more worrying now than the fuel oil leaking from the ship.  Once they break away from the ship they present a hazard to shipping – often floating just below the surface and difficult to see and track until they finally fill with water and sink.  Containers can remain afloat for weeks at a time.  There should also be concern as to the contents of the containers. This could range from household good to chemicals and in the case of Napoli there were several tonnes of herbicides amongst other materials."
Oil risk remains
Maritime New Zealand has stated that National Response Team has been mobilised, which includes trained oil spill response and wildlife experts, who were preparing for the likelihood of more oil coming ashore.
National On Scene Commander Alex van Wijngaarden said  "While reports at this stage indicate there has not been a significant release of oil, with the Rena in its current fragile state, a further release is likely. While it is unknown at this stage exactly how much oil may be released, teams have been mobilised and will be ready to respond to anything that may come ashore."
Expert commentary on oil risks to coastal ecosystems and wildlife recovery, collected by the SMC previously, is available here. To talk to experts about any aspect of the Rena grounding, please contact the Science Media Centre.
Selected media coverage of the Rena break up:
Bay of Plenty Times: Rena: Ship's stern will be left to sink
SunLive: Rena: debris field warning
Stuff.co.nz: Reports of thefts as Rena cargo washes ashore
Radio NZ: Rena debris now coming ashore
Otago Daily Times: Stricken vessel breaks up in high seas
TVNZ News: Containers from split Rena reach shore