The grounding of the Rena container ship on the Astrolabe Reef in the Bay of Plenty poses a substantial environmental threat and has recovery teams scrambling to avert disaster.
The Liberian-flagged container ship,  Rena, crashed into the Astrolabe Reef near Motiti island, offshore from Tauranga, on Wednesday.
Since then it is estimated that 10-100 tones of oil have leaked into the surrounding water.
Recovery teams have been working through the night to pump oil off the ship and minimise the spread of leaked oil to the coastline.
Wildlife treatment teams have set up rehabilitation facilities tasked with removing oil from seabirds at locations along the coast. Several oil-affected birds have already been treated and plans are in place for the treatment of fur seals if necessary.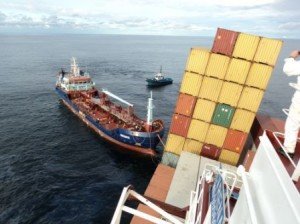 The latest reports from Maritime New Zealand (10am this morning) state that about 10 tonnes of oil has been pumped off the Rena. Pumping was halted last night due adverse weather conditions but is expected to start again soon. According to current estimates, it will take around two days to remove all oil from the Rena's tanks.
Real time data showing the location of the Rena and nearby ships can be seen on marinetraffic.com. The navy ship HMNZS Endeavour is the command and control center for the recovery operation and the bunker barge Awanuia is currently working to remove oil from the tanks of the stricken Rena.
The most up to date information of the recovery effort can be found on the Maritime New Zealand news website and a full background and timeline of events is available on their incident page.
Breaking media reports state that oil has reached Mt Maunganui beach, several days ahead of the expected arrival of oil at the coastline:
New Zealand Herald: Ship oil on Mt Maunganui beach
Stuff.co.nz: Oil washes up on Mt Maunganui beach
TVNZ News: Oil ashore at Mount Maunganui beach
Other recent NZ news reports:
Radio New Zealand: Lack of communication over oil lamented by MP
3 News: Tauranga's mayor on Rena oil spill
3 News: Hope oil can be pumped before storm sets in
Radio New Zealand: Tauranga iwi, hapu mobilise for oil clean-up
The grounding of the Rena is major news not only here New Zealand, but also overseas. Examples of breaking international coverage include:
Sydney Morning Herald (via AAP): Crews resume pumping oil off NZ ship
BBC News: New Zealand: Crews race to pump oil from stricken ship
SBS News Australia: More oil leaks from ship stuck on NZ reef
SABC News South Africa: Fears New Zealand oil slick ship will break up