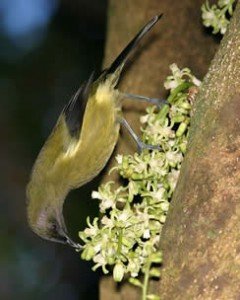 Knock-on effects from bird loss are relentlessly changing the make-up of New Zealand native forests, according to new research published online today in the journal Science.
Researchers from Canterbury and Auckland Universities studied plant life on three pest-free island sanctuaries where pollinating birds — bellbirds, tui and hihi — are abundant. When compared with mainland sites, they found the loss of native birds has led to dramatically fewer seeds and seedlings in bird-dependent plants like NZ gloxinia, a once-abundant native shrub.
A press release with more information and quotes from the researchers involved is available from the University of Canterbury.
The Science Media Centre approached local experts in the field of biodiversity and ecology for comments on the research.
Dr John L Craig, Research Associate, University of Auckland comments:
"This paper demonstrates a long suspected cascading effect of biodiversity decline. New Zealand has known losses of native birds and other animals but few people seem to anticipate the associated and inevitable outcome – the forests and ecosystems that we see today will be different for future generations.
"What the authors have demonstrated for one small shrub is likely just part of a trend of cascading effects that will become increasingly apparent. Their results also demonstrate the importance of reserves with full pest control rather than New Zealand's usual solution of just creating more reserves."
Dr Robert Allen, Science Leader – Ecosystem Processes, Landcare Research comments:
"This is a very carefully thought through piece of work that utilises the strengths of island/mainland comparisons – and why we must look after our islands.
"In a general sense the problem of 'cascading biodiversity effects' has been recognised, often for large and obvious organisms and processes. However this study markedly increases the profile of the issue through a mixture of careful observations and experiments on a subtle (at least to some) process, with important consequences that might be quite general.
"Such slow, and cumulative effects may well be manifested over many decades and in fact centuries. This is a very important point from the paper."
Dr Eckehard Brockerhoff, Senior Scientist at Scion comments:
"Sandra Anderson, Dave Kelly, and colleagues have elegantly researched and documented the near failure of a critical mutualism between a bird-pollinated endemic New Zealand shrub and its pollinators. The local extinction on the North Island mainland of two of the three birds that are able to pollinate Rhabdothamnus solandri has led to a gradual but major reduction in the regeneration of this shrub on the mainland. Given current trends, the decline of birds is likely to cause the eventual decline of this shrub.
"To my knowledge this is the first well documented case of a cascading decline in biodiversity resulting from the disruption of a pollination mutualism. Furthermore, although this is not specifically covered by the authors, there is a possibility that host-specific insects that may be associated with R. solandri are also affected by this, in a further proliferation of this cascading effect.
"These are very important findings that will certainly receive much attention in New Zealand and overseas."
For more information
To talk to these or other local experts, contact the Science Media Centre on (04) 499 5476, smc@sciencemediacentre.co.nz