Since the magnitude 7.1 earthquake hit the Canterbury region a little before 5am on Saturday, 4 September, the media has been covering events closely.
The earthquake, felt strongly in Wellington and even further north, badly damaged large parts of Christchurch; luckily, no one was killed.
LATEST SCIENTIFIC UPDATE FROM GEONET HERE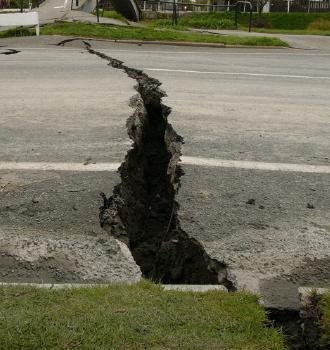 Media coverage (oldest first*)
Radio NZ: Quake felt throughout the country
The Gisborne Herald: Christchurch hit by 7.1 quake

The Press: Earthquake key facts
NZ Herald: Canterbury quake may have been on 'new' fault line
NZ Herald: Christchurch earthquake: Tale of a damaged city
TVNZ/One News: Two large aftershocks hit Canterbury
Star Canterbury: Praise for dairy owner after earthquake
ODT: Christchurch quake 'inevitable': scientist
Stuff: Bigger earthquake predicted to come
The Press: Psychological trauma new fear from earthquake
TVNZ/One News: Quake day three: Live updates
TVNZ/One News: State of emergency extended in Canterbury
Stuff National: Quake: Rolling report
Waikato Times: 7.1 Canterbury earthquake: State of emergency extended
NZ Herald: Latest updates: Christchurch earthquake
The Press/SMH: Scientists suspect there were three shocks in five seconds
3 News/NZPA: Quake's emotional toll could take weeks to surface
Stuff: Earthquake series warning
NZ Herald: When solid ground is shaken to mush
3 News/NZPA: Chch fault had not ruptured for 16,000 years
Stuff/The Press: Shake the strongest recorded in NZ
NZ Herald: Auckland at risk from unseen threat
The Press: Rattled nerves likely to cause stress ailments
NZPA/One News: 270 aftershocks and counting…
NZ Herald: Haiti's earthquake similar but deadlier than Christchurch's
NZ Herald:  What lies beneath the Canterbury Plains? A fault revealed
* Please note: due to the large amounts of coverage, this is not a comprehensive list.