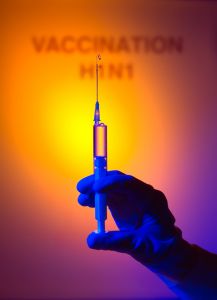 UPDATED 12.30pm: A year ago this Saturday, Rangitoto College students returning from a school trip to Mexico were quarantined in home isolation, with suspected cases of H1N1 swine influenza.
By the end of 2009, the strain of flu the students were infected with had swept the world, claiming the lives of 17,798 people, including 20 New Zealanders.
The Science Media Centre asked leading New Zealand experts in pandemics and virology to reflect on last year's pandemic, the lessons scientists have drawn from it, the significant research that has emerged in its wake, and predictions for this year's flu season.
We also approached for comment New Zealander Dr Robert Webster, a Memphis, Tennessee-based virologist and leading avian influenza expert who was the first scientist to announce a link between human flu and bird flu.
– Dr Robert Webster, Department of Infectious Diseases, St. Jude Children's Research Hospital, Memphis, Tennessee
– Dr Sue Huang, Head of WHO National Influenza Centre, Institute of Environmental Science & Research (ESR)
– Dr Richard Hall, Virologist WHO National Influenza Centre, Institute of Environmental Science & Research (ESR)
– Professor John Fraser, Head of School of Medical Sciences, University of Auckland
– Michael Baker, Associate Professor, Department of Public Health, School of Medicine & Health Sciences, University of Otago, Wellington
– Dr Richard Webby, Director, World Health Organization Collaborating Center for Studies on the Ecology of Influenza in Animals and Birds, St Jude Children;s Research Hospital, Memphis, Tennessee
Science Media Centre Q&A with scientists:
1) What have we learned about swine flu in the last year? What were the particularly big lessons (eg. the demographic of those most affected, vaccine safety, etc)?
Robert Webster: "The big takeaway from this pandemic is that there is no way we can predict the severity of a pandemic: flu will continue to foil us no matter what we do. It was much less pathogenic than than the 1918 strain – when the virus first started showing up coming out of Mexico out of pigs we immediately started thinking of Spanish flu 1918. We prepared for the worst and hoped for the best. We got something in between.
"It wasn't too innocuous. If it wasn't for the fact that we had anti-viral drugs and new methods of oxygenation, young people would have been much more severely affected. It wasn't a harmless pandemic. It was amazingly transmissible. We were preparing for H5N1 which kills 60 per cent of people that it infects."
John Fraser: "It was highly virulent but no less pathogenic (and arguably significantly less pathogenic) than other strains (NZ case fatality rate of 0.005% is low). Those most at risk were those with no prior immunity to this strain (i.e, younger people). It is apparent that in many older individuals, there was sufficient prior cross-reactive immunity to limit the effects of this pandemic."
Sue Huang:
– We have learned that the pandemic affected young people more than old people.
– We learned that the pandemic is highly transmissible, and spread rapidly to every continent within weeks.
– We learned that although 2009 H1N1 is less lethal than the 1918 pandemic, it still caused 17,798 reported deaths worldwide. If there was no concerted public health response worldwide, the death toll may well have been higher than this.
– We have learned that the pandemic vaccine safety profile is as good as the seasonal vaccines' and one dose of vaccine, rather than 2 doses as originally expected, provides good immune protection.
Richard Hall: "We have learnt that pandemic influenza, previously known as "swine influenza", is a mild to moderate infection that arose from the combination of avian, human and swine influenza strains that mixed together to create a new virus. Characteristics of this virus are similar to previous pandemics that have occurred in the 20th century, although the 2009 pandemic virus appears to be less severe.
"Certain risk groups of have been identified as being more susceptible to this virus, than to normal seasonal influenza . These groups include pregnant women, the very young and indigenous peoples."
Michael Baker: "We have learned a great deal about the virus, the illness it causes, and vulnerable populations. Thanks to scientific advances in areas such as virology and epidemiology, we are now better defended against this pandemic virus than any population in history. We have an effective vaccine, and we have a good understanding of who was infected in the first wave and who in the population is most vulnerable."
Richard Webby: "Perhaps the biggest lesson from this pandemic is the reinforcement of the fact that we still have a long way to go to understand influenza and particularly the impact that human immunity has on viral emergence, defining risk populations, and vaccine efficacy."
2) What significant new research has emerged here and abroad in the last year looking at H1N1 and what has it revealed?
Robert Webster: "I come back to the fact that we can't predict pandemics. That's the lesson: we have to be prepared for anything with influenza. We can have vaccine feedstocks and antivirals and all these things but there is no way we can predict how severe they are going to be."
John Fraser: "It spread in a very similar pattern to other influenza strains. However, the most striking finding from NZ research, which led the world, was the very rapid rate of decline after the peak in week 28 ( July 2009). By August the notified cases (GP visits and hospital admissions) were declining rapidly. I suspect this was a result of fewer people visiting their GP once it became clear that it was just another flu, and that people chose to ride it out at home rather than visiting their GP.
"It appears that young people were more at risk from H1N1 than adults with a clear shift in age related cases. This suggests that there was protective immunity in older people probably due to some cross reactivity to a previous strain.
"The most important thing I think we learnt was despite all the best efforts to try and stem its introduction (including some of the more bizarre and more excessive activities), the rate of infection after initial introduction in April was very typical of an "unmanaged" flu pandemic. This says that you can't really stop it, no matter how hard you try and that resources need to be allocated better!!"
Sue Huang:
– Co-infection research: "NZ is in a unique situation among all southern hemisphere countries in that we had co-circulation of seasonal A(H1N1) virus which is Tamiflu-resistant and pandemic A(H1N1) virus which is Tamiflu-sensitive.
"The biggest research question is whether co-infection of two viruses in a person would result in a new pandemic virus which is Tamiflu-resistant. ESR scientists have identified a few co-infection cases in NZ. Researchers at ESR are working with experts at St Jude Childrens Research Hospital (Memphis, Tennesse) to determine whether such natural co-infection cases resulted in generation of a new pandemic virus. The results from this study will be due out soon."
– Serosurvey: "After the first wave of pandemic, one essential research question is how many people have been infected by the pandemic virus and what the population immunity against this virus is. Serosurvey allows detection of individuals who are symptomatic and asymptomatic. This allows for evidence-based decisions on a targeted and cost-effective vaccination program. Also it adds to our understanding of the epidemiology of the pandemic virus. ESR scientists have been contracted by the Ministry of Health to conduct the serosurvey, and the Ministry of Health will release the study findings in due course."
Richard Hall: "ESR scientists have determined that pandemic viruses circulating in New Zealand in 2009 and early 2010 are still sensitive to the anti-influenza drug Tamiflu. A normal seasonal influenza virus emerged in 2008 that had developed resistance to Tamiflu, and ESR identified the arrival of this virus into New Zealand late in 2008. This tamiflu-resistant virus was present in the community at the same time as the pandemic occurred. Researchers at ESR are working with experts at St Jude Childrens Research Hospital (Memphis, Tennesse) to determine what the impact of co-circulation of both these viruses might be, with the results from this study being due out shortly.
"Work both here in New Zealand and in other countries shows that the genome of the pandemic virus has changed very little over time, and that viruses isolated from severe or fatal patients are not genetically distinct. The severe cases are largely brought about by secondary infections of bacteria which follow on from the influenza infection. This is more likely to happen in individuals that are in higher risk groups such as the elderly or those with specific diseases."
Michael Baker: New Zealand made an important contribution early in last year's pandemic by publishing (in August 2009) the first description of a complete pandemic 'first wave'. Our position in the Southern hemisphere meant we were one of the first countries to experience this event and our surveillance systems performed well. This description correctly identified the relatively small proportion of the population infected by the virus and the low case fatality. This reporting has been widely cited and assisted the Northern hemisphere in their pandemic planning. Intensive care specialists in New Zealand and Australia also collected and analysed systematic data on the worst affected cases in both countries which helped to identify risk factors for severe infection (notably pregnancy, extreme obesity, and respiratory illness).
3) Overall, what was the effect in New Zealand? Was it more or less severe than in other countries?
Robert Webster: "The medical people in New Zealand will have a much clearer picture of this, but my impression, looking at it from the United States is that if anything, it was rather more severe than the rest of the world."
John Fraser: "The outbreak in NZ was no more or less severe than in other countries. NZ was however an important indicator for the northern hemisphere and I think they dealt with it in a much more measured fashion because of the New Zealand information."
Sue Huang: "ESR's sentinel GP surveillance showed that about 2.7% of New Zealanders (116,335) had influenza-like illness resulting in a visit to a GP, with children aged 0-19 years having the highest disease burden. The ILI activity in 2009 was the highest during 1997-2009 and the second highest during 1992-2009, second to 1996 activity.
"Within 3-4 weeks, the Pandemic H1N1 virus rapidly overtook seasonal H1N1 virus (the initial predominant virus) and became the predominant virus for the rest of the first wave. That pandemic H1N1 out-competed seasonal H1N1 in NZ is a unique situation among southern hemisphere countries. This situation helped the WHO and the Australia Influenza Vaccine Comittee to make the decision to remove seasonal H1N1 components and replace them with pandemic H1N1 components since seasonal vaccines only allow 3 components (H1, H3 and B) for the incoming influenza season in 2010.
"ESR's Notifiable disease surveillance recorded 3,668 confirmed and probable pandemic cases. It also recorded 1,014 hospitalised cases due to pandemic virus. This is the highest record during 1990-2009 with the second highest record in 2003 with 552 hospitalised cases. The risk factors include pregnancy, chronic respiratory conditions, diabetes mellitus, cardiac disease etc.
"Although there were 20 fatal cases being confirmed to be due to the pandemic virus, about 119 patients were admitted to ICU, much higher than other years. The improved hospital care in the modern era, in particular ICU care, may have saved many patients' lives.
"Combining all the facts listed above, my interpretation is that when 2009 pandemic is compared to the worst pandemic in 1918, it is mild. The 2009 pandemic is similar to the 1957/1968 pandemics. However, when 2009 pandemic is compared to seasonal influenza monitored over 1990-2009, it belongs to a severe form based on the second highest ILI activity in the community, the highest hospitalisation and very high ICU usage. The low mortality may be due to improved hospital and ICU care in modern era.
"The effect of the pandemic on NZ is very similar to other southern hemisphere countries who have experienced co-circulation of pandemic and seasonal influenza during the first wave."
Richard Hall: "The response from public health authorities and the virology laboratories within New Zealand has been held up as an example of a well conducted response. Decisive action and intervention was taken by public health authorities in the early stages of the pandemic which helped to contain the initial incursions of the virus. Our laboratories were able to cope with testing very large numbers of samples during the containment phase, keeping up a pace that much larger laboratories overseas were setting.
"At the peak of the pandemic, ESR scientists were testing greater than 300 samples per day. During the containment phase, lab testing helped to delay the spread of the virus by identifying those affected and allowing decisions to be made about patients that should remain in isolation until they became non-infectious. During the management phase, ESR scientists monitored the changes of the virus closely regarding antiviral resistance and any genetic and antigenic changes.
"The severity of the pandemic in New Zealand was similar to that observed for other countries. The inherent mild or moderate illness caused by the virus accounts for this similarity. New Zealand and Australia provided world-leading care for hospitalised, more serious cases and developed special procedures specific to pandemic H1N1 cases that are now adopted around the world."
Michael Baker: "In New Zealand the 2009 influenza pandemic caused at least 40 deaths, about 120 admissions to intensive care units, more than 1,000 hospital admissions, and probably more than half a million infections in the community. One feature of the pandemic was its global spread and the similarity of the 'epidemic curves' in most countries (or at least those countries that have the resources to track the disease)."
Richard Webby: "The impact of the pandemic in New Zealand was pretty consistent with what was seen in the rest of the world. Considering New Zealand was one of the first affected countries outside of North America, the general response was good."
4) Was the pandemic overhyped, the threat overrated?
Robert Webster: "Absolutely not! The world should be really happy that the science that was put into play, the antivirals, the vaccines, the strategies for handling it, particularly in New Zealand, saved very many people. There is no other way to prepare for a severe situation and thank God it wasn't so severe. What would have happened if it had become as pathogenic as H5N1 and killed 63 per cent of the population? There's no way we can predict severity at this stage. We are criticised because we don't have the knowledge that will allow us to do that.
"Influenza viruses come originally from the aquatic birds of the world and this virus was out there in the pigs of the world for something like 10 – 15 years. As scientists we have to do better at surveillance of the human-pig interface."
John Fraser: "In my opinion yes. However there is always a need to be on the alert and to respond appropriately when you don't know how pathogenic the strain will be. It is easy in hindsight to say we over-reacted. In this case, little was known about the strain, and I believe the media got a hold of the story and turned it into a doomsday threat, with very little evidence to go on. There was some pretty crazy behaviour at the start of the epidemic such as principals closing down schools on the basis of a single case and General Practices putting up signs telling people to go away if they had any of the symptoms. Hopefully we have learned a lot about how to deal with a potential flu pandemic and what works and what does not. I think practices need to be examined and revised accordingly."
Sue Huang: "I do not think it was overhyped. Facing an unknown situation where a new virus emerged and spread so quickly and widely, and knowing that the influenza virus is notoriously unpredictable and can mutate fast, we had to prepare for the worst and hope for the best. NZ benefited with a well prepared pandemic action plan and the concerted public health response which helped to delay the virus for 6 weeks from establishing sustained community transmission in NZ. NZ also benefited from having the WHO declare a global pandemic, which triggered global vaccine manufacturers to produce vaccines. Judging by the 2009 pandemic, this could potentially have been a severe form of seasonal influenza (as I indicated above) – the excellent public health response and measures certainly helped to mitigate the risks and harms posed by this pandemic."
Richard Hall: "Based upon what has been observed from previous pandemics in the 20th century, which have caused severe disease and many fatal cases, the actions taken during the 2009 pandemic were entirely appropriate. Initial efforts to keep the virus out of New Zealand were successful for over 6 weeks which allowed time for key agencies to fully activate response plans. Actions taken during the containment phase in New Zealand further limited the spread of the virus. If the virus had been more severe these measures would certainly have saved lives
"Additionally, compared to the previous 12 years the number of people affected by pandemic influenza reached levels higher than seasonal influenza . This means many more people than usual were affected by influenza during the 2009 New Zealand winter. Public health measures allowed for increased capacity to deal with such a surge in influenza cases."
Michael Baker: "I think the level of threat from this pandemic was communicated quite effectively in New Zealand. The arrival of a new pandemic influenza virus must be treated with extreme caution, given the history of such events (the 1918 pandemic is still the greatest natural disaster to ever affect New Zealand). Early reports about the 2009 H1N1 virus suggested it had a moderate case fatality and could cause hundreds of deaths, even in a small country like New Zealand. Fortunately, when the pandemic became established in New Zealand it was less severe than these early reports had suggested.
"A leading international authority on risk communication, Peter Sandman, actually identified New Zealand when he cited examples of good public communication about this disease."
Richard Webby: "In hindsight it's easy to claim this, but in April/May of last year no one had any idea of where this virus was headed and what the coming months had in store. I would much rather be in a situation now where looking back we can say it was overhyped and the response exaggerated as opposed to looking back and saying we underestimated this thing and if only we had responded with more vigor."
5) What do you expect to happen this flu season? Do you think it will reoccur to the same extent?
Robert Webster: "If you look back at the last pandemics from 1957 and 1968, you usually get a lull, a period of grace. This is two, even three years where the virus is still filling in the gaps and is not drifting significantly. I would suggest we will have a fairly mild year. That would be the prediction, but don't trust flu!"
John Fraser: "It is estimated that during its very short stay in NZ, it infected 11-14% of the population. It is certainly likely to be back again this year, but I suspect the existing herd immunity and the availability of a vaccine will prevent a serious pandemic outbreak (although one could argue that 14% of the population infected in 3 months is a pandemic!)."
Sue Huang: "Knowing that the influenza virus is notoriously unpredictable and mutates fast, it is very difficult to predict where it would lead. This is precisely the reason the WHO is not declaring the pandemic over. It remains uncertain whether the virus would accelerate its mutation rate because of immune pressure from the human population (i.e. a lot of people have been exposed to the virus and developed immunity which would force the virus to change in order to survive).
"It would be very important to monitor the second wave in all southern hemisphere countries including NZ. If the virus is not changing much for the coming winter in New Zealand, and a lot of New Zealanders were exposed to the virus in 2009 and/or had vaccination, then we may not see the same extent as occurred last year. ESR scientists at the WHO National Influenza Centre are keeping a close eye on the virus regarding its antigenic and genetic change and its antiviral profile."
Richard Hall: "This is very difficult to predict. It has been suggested that this year in the southern hemisphere, pandemic influenza will return in New Zealand, with a "second wave" that is of lesser significance than that which occurred in 2009. Many people in New Zealand are now vaccinated against pandemic influenza which formed part of the normal trivalent flu vaccine.
"Also, many people in the community will have contracted pandemic influenza last year and will now have developed immunity. These factors may make it harder for pandemic influenza to spread as quickly. There is always a possibility that the virus may mutate but there is no evidence at present to suggest this is occurring. ESR scientists at the WHO National Influenza Centre are presently testing pandemic influenza viruses and sequencing their genes to monitor any changes in the virus."
Michael Baker: "The H1N1 pandemic virus is expected to reappear and probably dominate the influenza season in New Zealand, which could begin anytime from April onwards. At least one million Zealanders are now immune to this virus, either from natural infection or from vaccination this year. Consequently, this virus has far less potential for transmission in 2010 so we would expect it to cause less illness than in 2009."
Richard Webby: "My expectations are for a typical flu season with either influenza B or the pandemic virus dominating. We need to stress that if I could really predict this I would be a rich man thanks to the TAB."
To talk to these or any other scientists please contact the Science Media Centre on tel: 04 499 5476 or email: smc@sciencemediacentre.co.nz.