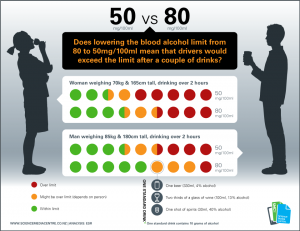 A reduction in the legal blood alcohol limit is one proposal in the Ministry of Transport's Safer Journeys 10-year road safety strategy document released last month.
New Zealand's current limit of 80 mg/100 ml (or 0.08 BAC) is among the highest in the world — most countries besides the UK and USA have opted for 50 mg or lower.
Cabinet ministers are currently weighing up the proposed reduction, with a decision  due by May.
What would this change mean for drivers, social drinkers and rural drinking establishments? What does international research show about the likely impacts on road safety and alcohol-related fatalities?
How well do these limits line up with driver impairment? Does the current threshold allow people to legally drive while drunk?
In this Science Media Centre online briefing, alcohol and public safety experts will cover the basics of blood alcohol and address these and other questions.
***NB: A high-resolution version of the infographic above  — comparing the number of drinks required to exceed the current and proposed limits — is available for media outlets to download in Imagery section of the SMC Resource Library. Please contact us for more information.***
SPEAKERS
Dr Allan Stowell – Science leader – Blood and Breath Alcohol, ESR
Dr Allan Stowell is a forensic chemist and toxicologist who specialises in alcohol metabolism and supervises ESR's Blood Alcohol Analysis Unit. He frequently serves as expert witness in court cases related to drink driving.
Dr Geoff Robinson – Chief Medical Officer, Capital & Coast DHB
Dr Geoff Robinson is a physician who has worked in the Alcohol and Drug services of Capital and Coast DHB for 30 years. He continues to work in the CCDHB Detoxification Unit, and is also the Chief Medical Officer for CCDHB.
Prof Jennie Connor – Head of Department, Preventive and Social Medicine, University of Otago
Prof Jennie Connor is a public health physician and epidemiologist, involved in epidemiological research in several overlapping public health fields, including the reduction of alcohol-related harm and injury prevention.
ONLINE BRIEFING DETAILS
DATE: Thursday 8 April 2010
START TIME: 11 am
DURATION: Approx 40 minutes
LISTEN TO AUDIO FROM THE BRIEFING:
Part 1: [audio:https://www.sciencemediacentre.co.nz/wp-content/upload/2010/04/Blood-alcohol-briefing-pt-1.mp3]
Geoff Robinson and Allan Stowell
Part 2: [audio:https://www.sciencemediacentre.co.nz/wp-content/upload/2010/04/Blood-alcohol-briefing-pt-2.mp3]
Jennie Connor and Q&A
Registered journalists can download presenters' slides from the SMC Resource Library.
Further Information
For more information, or to arrange interviews with panelists following the briefing, contact the Science Media Centre on tel: 04 499 5476 or email: smc@sciencemediacentre.co.nz.