By Bob McDavitt, MetService Weather Ambassador
2009 globally was the fifth warmest year in the past 130 years, with 2005 the warmest and 2007 the second.
Download the report here here.

That data is from the global mean surface land-ocean temperature index, available at http://data.giss.nasa.gov/gistemp/graphs/.  New Zealand has just had its warmest decade on record, according to NIWA at   http://www.niwa.co.nz/news-and-publications/news/all/nz-in-the-2000s-warmest-on-record.
In the New Zealand region 2009 started with our air temperatures close to the long term mean, but in May we dived into winter-like values, and then there was a very strange flat-line in Aug/Sep/Oct, finally returning to normal again towards the end of the year.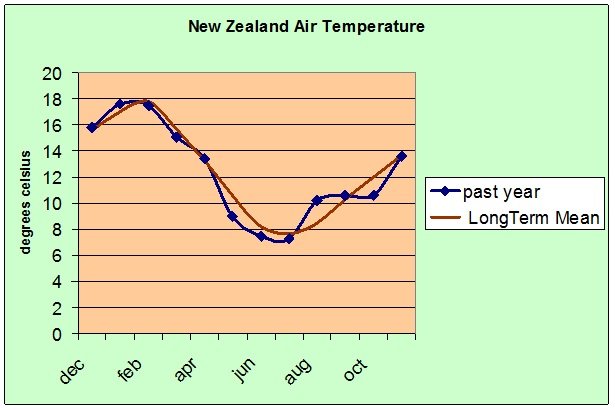 So, May, August and October stand out as the weirdest weather months of the past year.  Here are some snippets from NIWA's monthly climate summaries (at http://www.niwa.co.nz/news-and-publications/publications/all/cs/monthly) describing these:
May: "Well below average over most of the country; many areas experiencing lowest recorded May temperatures."
August: "The warmest August since records began 155 years ago, with record temperatures at many locations."
October: "The coldest October in 64 years, with all-time record low October temperatures in many areas. Exceptionally late snowfalls."
The May chill was caused by many low-pressure systems lingering just east of New Zealand, held there by a blocking anticyclone in the mid South Pacific Ocean.  This resulted in more southerly air flows than normal over New Zealand.  October's weather patterns were similar to May's, with troughs held near New Zealand by anticyclones over southeast Australia and the mid South Pacific. Preceding our weird October there was a memorable dust storm that hit Sydney, coincidentally right on the equinox. On 23 Sep. This storm was followed by three snowy lows over New Zealand.
The August warmth was also due to a blocking anticyclone, this time in the area east of New Zealand, feeding frequent northerly winds onto the country.  For more information on how our weather in the past year was affected by blocking anticyclones refer to the posting to www.metservice.com's blog site entitled "Reflections on winter" by MetService's manager of Public Weather Services, Peter Kreft.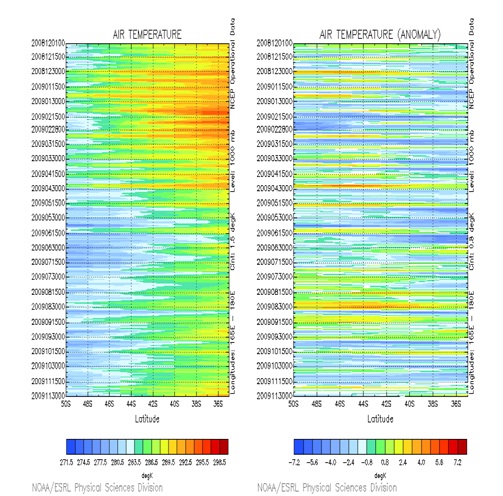 The time sections above come from the Climate Diagnosis Centre on NOAA on their http://www.cdc.noaa.gov/map/time_plot/ web site.  These images help to give us a quick look at the full range of air temperature and its changes over New Zealand for the past year. For each day the air temperature for the longitudes from 165 degrees East to 180 are averaged producing a colour-coded line drawn from left to right for the latitudes from 50 to 35 degrees South.  Time runs down the graph so that December 2008 is at the top and November 2009 is at the bottom.
The image on the left shows our annual warming and cooling cycle – the hottest day (38ºC at Culverden on 8 February) stands out.  On the right we can see the variations from normal throughout the year, and the blueness of May and October stand out well compared with the redness of August.  Using this method of displaying the temperatures, a cold period over the South Island in mid to late February and the North Island in March is revealed – this cold period gets averaged out in the monthly statistics.
Here, for your records, are the monthly highlights for the past year:
2 Jan: Heavy rain hit Queenstown and Westland.
3 Jan: Lightning, thunder, gale force winds and large hail hit Canterbury, stopping the international cricket match against the West Indies in Christchurch and briefly closing Christchurch International Airport.
8 Jan: Tornado damaged the Bannochburn tavern.
11 Jan: Flooding hit the Gisborne area, golf ball sized hail hit the Kaimais, and a waterspout tossed over a yacht moored at Great Barrier.
20-23 Feb: Severe rain from the remains of TC INNIS brought surface flooding to parts of Wellington, Levin, and Palmerston North, and caused raw sewage to overflow into central Wellington.  In Tauranga, the severe rain caused the postponement of the Kapa Haka festival, the first time this had happened in 36 years.
27-28 Feb: Heavy rain and strong winds brought Dargaville Fieldays to an early close and cancelled the annual summer concert at Mission Estate Concert in Hastings.
5-7 Mar: A storm crossed Northland, Auckland, and Bay of Plenty with winds taking down trees and powerlines.
11 Mar: Snow coated the Remarkables.
17 Mar: In Tauranga, heavy rain caused surface flooding, slips and sewerage overflows.
9 Apr: Snow coated the Southern Alps.
27 Apr: Heavy rain caused flooding in Westland. Homes were evacuated in Greymouth and roads became impassable. Trampers were stranded in Aoraki Mt Cook National Park, and about 120 people were evacuated from the Milford Track by helicopter.
8-10 May: Snow traps tourists at Lindis Pass
11 May: Tornado in Warkworth. Waterspout was seen off Makatu.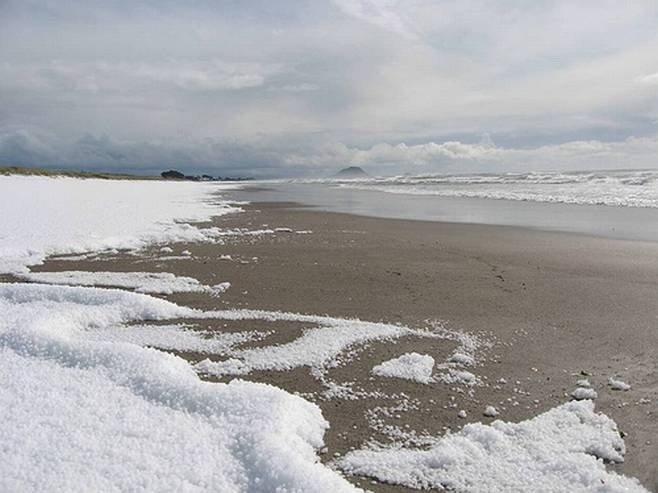 15, 17, 23, 24, 30 and 31 May: High winds in Wellington.
17 May: Tornado in Taranaki. Flooding hit South Canterbury, and, the next day, Otago.
19 May: Snow to low levels in Otago.
21 May: Snow and ice stranded motorists on Central Plateau.
30 May: Snow to low levels in Canterbury and around Dannevirke.
12-13 Jun: High winds and rainfall affected Gisborne.
16 Jun: Snow and ice hit Otago and Southland.
27 Jun: Thick fog affected Auckland.
28-30 Jun: A slow-moving low brought heavy rain, strong winds and thunderstorms to the north and northeast of the country. A civil defence emergency was put in place in Gisborne, as rain continued and rivers rose.
4 Jul: Tornado damaged houses in Kaitaia.
11 Jul: Severe gales affected Northland
13 Jul: Heavy rain affected Northland
18 Jul: Fog closed Christchurch Airport and severe gales affected Northland.
19 Jul: High winds damage Wairarapa.
21 Jul: Tornado in Cromwell, wind damage in Opunake.
23-24 Jul: High winds and heavy rain affected Wellington and eastern North Island, with flooding and slips causing road and rail closures.
1-2 Aug: Avalanche closed the Milford Road. It took ten days to clear.
26 Aug: Thunderstorms hit Auckland, Taranaki and western Bay of Plenty cutting power.
32 Aug: Heavy rain brought surface flooding to the Greater Wellington area, with a slip closing the rail tracks at Pukerua Bay.
5-6 Sep: Record frosts in a slow-moving anticyclone.
14 Sep: Extreme northwest wind gusts and record high Sep temperatures in eastern South Island (29ºC at Ashburton). A tree was blown on a Ute in Arrowtown.
23 Sep: Dust storm in Sydney.
24 Sep: Deep low #1 brought snow to low levels between Norsewood and Woodville, and ice to many areas.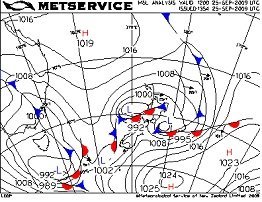 29 Sep: Tornado de-roofed a house at Ramarama.
4-5 Oct: Deep low #2 brought snow to low levels in Hawke's Bay and central Plateau, estimated to be greatest October snowfall in the area since 1967, killed thousands of lambs, closed roads and stranded hundreds of travellers.
6 Oct: Snow was observed in Taranaki, Waikato and Rotorua.
8-9 Oct: Deep low #3 brought snow to Otago and Canterbury and Marlborough.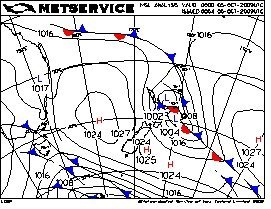 29 Oct: Hail damaged crops in Hawke's Bay
4 Nov: High winds blew a container ship off its moorings at Lyttelton Harbour.
13 Nov: A southerly buster hit Canterbury during the Royal Show and felled trees.
14 Nov: High winds cancelled the Remembrance Day World War I Air show.
15 Nov: High winds toppled the main tent at Toast Martinborough
26 Nov: High winds toppled trees and cut power at Porangahau.
28 Nov: High winds knocked caravans over in Canterbury.
4-5 Dec: Severe thunderstorms hit Kaipara. Surface flooding hit Auckland and Coromandel.
14 Dec: Severe thunderstorms hit Canterbury with hail as large as golf balls.
On behalf of MetService, I pass on to you my wishes that the weather will treat you prosperously in 2010.