From Sunday drivers in New Zealand will only be allowed to use mobile phones in their cars if they use a hands-free kit or phone cradle.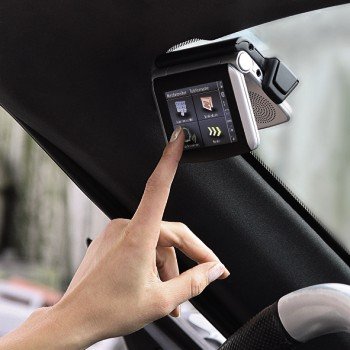 The ban, and its timing, were officially confirmed in August. Mobile phones cannot be used, even while stopped at a red light, unless the phone is in a fixed cradle or a hands-free kit or headset is used. Those who break the rules face a fine of $80, and 20 demerit points.
Research conducted into the relative danger of using a mobile handset and hands-free kit in the car has shown, however, that using hands-free kits is almost as dangerous as using a hand held phone.
"A person using a mobile phone when driving is four times more likely to have a crash that will result in hospital attendance. Sex, age group, or availability of a hands-free device do not influence the increased likelihood of a crash." (1)
The Science Media Centre asked Professor Mark Stevenson, a researcher at the George Institue for International Health and one of the authors of the paper quoted above, to elaborate on his research and its implications.
Professor Stevenson's research papers examining mobile phone use and driver distraction are available in the SMC Resource Library.
How distracting is mobile phone usage in cars? And what difference, in terms of distraction, is there between the use of a handset, and a headset/hands-free kit?
"Driver distraction – in which mobile phone use is one of the leading distractions – contributes to an estimated 23% of crashes.  Research I have undertaken has shown that the use of a hand held mobile phone whilst driving increases the risk of crashing 4-fold whilst the use of hands-free mobile phone use whilst driving increases the risk 3.8-fold. Importantly, the risk of crashing is increased despite the age or sex of the driver."
How does a mobile phone compare to other distractions, such as passengers?
"Driver simulator research has shown that there is a distinct difference between mobile phone use and passengers, with mobile phone use a greater distraction.  This can be explained in part, by the fact that passengers moderate their conversation to take account of the driving tasks at-hand."
Is the government's ban on the use of handsets (only) in cars justified?
"Based on the study I undertook in 2005 (see reference below) this legislative change is justified. However, as the evidence also highlights hands-free as a significant risk – so too is a total ban on mobile use justified. A total ban on mobile phone use for provisional drivers (P-plate or novice drivers) is currently in place in a number of states in Australia."
Is the use of Bluetooth headsets less distracting for drivers than using a hand held mobile phone?
"More and more new vehicles are being equipped with Bluetooth technology, facilitating voice activation and therefore totally hands-free phone use. Though this may lead to fewer hand held phones used while driving in the future, our research indicates that this may not remove the risk. Importantly, if this new technology actually increases mobile phone use in cars, it could contribute to even more crashes." (1)
A simulator study from Australian researchers at Monash University also compared use of hand-free kits and in-car entertainment systems and found:
"Both in-vehicle tasks impaired several aspects of driving performance, with the entertainment system distracter having the greatest negative impact on performance, and that these findings were relatively stable across different driver age groups and different environmental complexities." (2)
Reference
(1) McEvoy S, Stevenson M, McCartt A, Woodward M, Claire Haworth, Palamara P, Cercarelli LR. The role of mobile phones in motor vehicle crashes resulting in hospital attendance: a case-crossover study. British Medical Journal 2005, 331:428-433.
(2) Tim Horberrya, Janet Andersona, Michael A. Regana, Thomas J. Triggsa and John Brown. Driver distraction: The effects of concurrent in-vehicle tasks, road environment complexity and age on driving performance. Accident Analysis & Prevention, Volume 38, Issue 1, January 2006, Pages 185-191