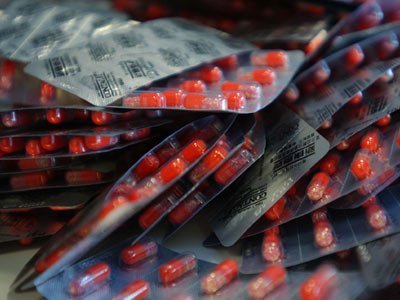 The Chief Science Advisor, Professor Sir Peter Gluckman, has been tasked with finding ways to fight New Zealand's worsening methamphetamine problem, and his suggestions are expected to be made public this month.
Also known as 'P', the drug is popular amongst a wide range of people and, in addition to being initially beguiling and highly addictive, is known for the extremely negative consequences which accompany long term addiction.
One of the solutions to be presented to the Prime Minister is the possibility of banning pseudoephedrine, commonly used in cold and flu medication.  Pseudoephedrine is an important precursor in the manufacture of methamphetamine, and it is hoped such a move might impact the production and sale of the drug in New Zealand.
The Science Media Centre held an online background briefing on the issue, featuring a panel of experts. Topics covered during the talk  include:
An overview of the methamphetamine issue in a NZ context
The efficacy of potential replacements for pseudoephedrine in cold/flu medications
What research from overseas tells us about the effectiveness of such a ban in curbing methamphetamine manufacture and use
Click on the player below to listen back to an audio recording of the briefing. Slides are available in the Resource Library.
Part I – (Chris Wilkins, Keith Bedford and Peter Black)
[audio:https://www.sciencemediacentre.co.nz/wp-content/upload/2009/10/Meth-briefing-pt-1.mp3]
Part II – (Mike Sabin and Q&A)
[audio:https://www.sciencemediacentre.co.nz/wp-content/upload/2009/10/Meth-briefing-pt-2.mp3]
SPEAKERS
Chris Wilkins – Dr Wilkins is a senior researcher at Massey University's Centre for Social and Health Outcomes Research and Evaluation (SHORE). His expertise is in illegal drug research with a particular interest in methamphetamine and drug trends. He is currently the lead researcher on the Illicit Drug Monitoring System (IDMS) which monitors trends in drug use in New Zealand by interviewing frequent drug users in the community.
Keith Bedford – Dr Bedford is the General Manager Forensic for the Institute of Environmental Science and Research Ltd (ESR). A forensic scientist for over 30 years with a background in illicit drugs and forensic toxicology, he was awarded the NZ Science & Technology Medal in 2001 for "sustained contribution to forensic science in New Zealand." He is a member of the Expert Advisory Committee on Drugs to the NZ Minister of Health.
Peter Black – Dr Black is a Professor of Clinical Pharmacology at the University of Auckland. His research interests include the pathogenesis of allergy and airways diseases and the treatment of asthma and Chronic Obstructive Pulmonary Disease.
Mike Sabin – Mike Sabin is a former Police detective and founding Director of MethCon Group, a specialist methamphetamine and drug awareness education provider. His recent publications include an extensive report on the efficacy of supply- and demand-side reduction focuses in drug policy initiatives.
News coverage:
National Business Review: NZ's P problem like a balloon, expert says
NZPA (ODT): Peak of P epidemic has probably passed: researcher
NZPA: Explosive `shake And Bake' P Method Not Likely To Take Off In Nz
NZPA: Cold Remedies Don't Need Pre-cursor Chemical For `P', Prof Says
NZPA: Making Meth Precursor Prescription-Only The Best Path – Educator
Further Information
To follow up on this topic with our speakers or other New Zealand experts, please contact the Science Media Centre on tel: 04 499 5476 or email: smc@sciencemediacentre.co.nz.