Radio New Zealand's Kim Hill interviews Amy Whitehead, overall runner-up of the MacDiarmid Young Scientist of the Year Awards 2009.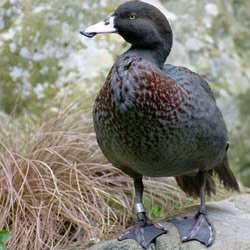 Amy's research – "Get more ducks for your bucks" – investigated the whio (blue duck), an iconic New Zealand species, mixing computer modelling with the physically demanding task of taking surveys of whio populations and habitats.  This information was used to assess whio numbers, the quality of their habitats, and how well predator control programmes are working, and is a key component of DOC's whio conservation strategy.
More information about Amy's research can be found here.